This is a write-up of the trip I took with my son to document the 2009 Hot Rod Power Tour. It was a fantastic trip. I had just finished working on my car two days before we had to leave for the trip, which made thigns very exciting! Anyway, I had written this up on antoher website and thought I'd share it here. I hope you enjoy the commentary and the pictures. It is a very memorable event for me ... another one of those bucket list items checked off ... unfortunately I think I have added it back on the list for round two. Details forthcoming!
(Note: You will see the asterick like as below seperating the days of the event.)
**********************************
"Unofficial" start to HRPT
While we weren't actually at the HRPT yet, we did have to travel from Virginia to Wisconsin for the start. The day started and ended bad in my book. We traveled up from Virginia to Pennsylvania, the west through the states. In VA and all of PA it was raining like a big dog, then right after we got to OH it was like someone turned the knob and off. The day was beautiful from then on. How did it end bad? The roads in Illinois and Wisconsin SUCK! My car got beat to crap. I think one of the ball joints is bad, as it is squeaking like a dead bed spring. I am not amused to say the least. Anyway, here are some of the pics from the day.
Here we are at the McDonald's getting ready to start the day. Nothing like an Egg McMuffin to start the get your rolling, lol! My friends car is a 2001 Z06 Corvette. It put down 410rwhp/393rwtq (I think it has more in it as the tuner is new to LSx motors) when it was tuned last week. Very respectful car!
Here we are in Ohio at one of the travel plazas. The difference in the weather when we got into the state was unbelievable. We thought we were going to be getting soaked the whole way. Having the sun come out was nice!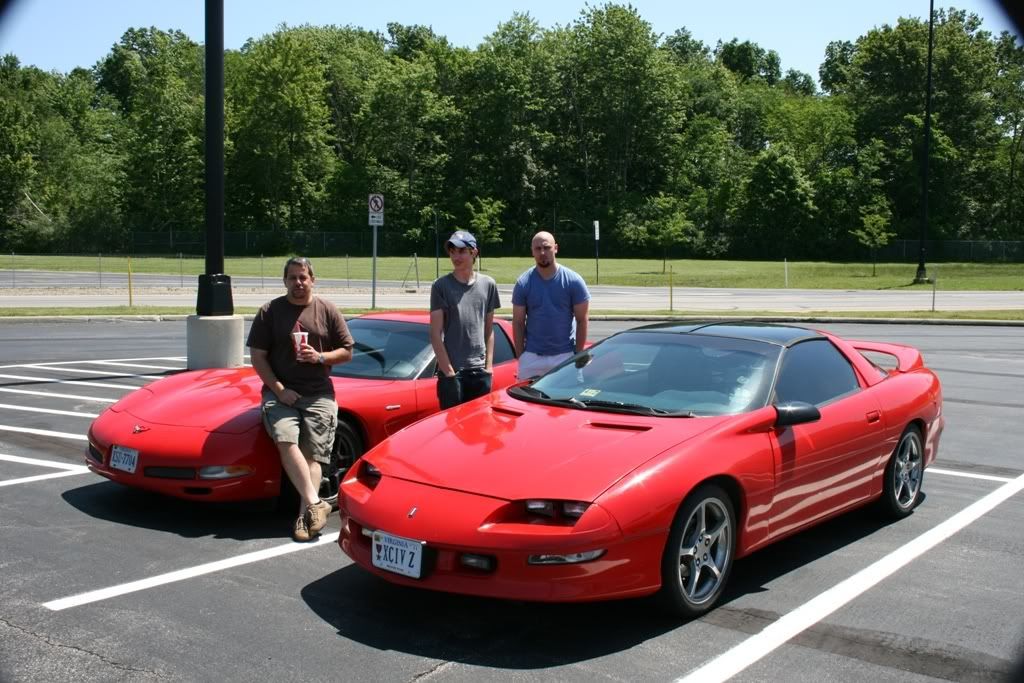 Here we are at the Indiana (I believe) travel plaza. We ran into Jeremy and this awesome looking 3rd gen. Not only was it clean but looked great, too. We were standing around looking on the computer for somewhere to eat in the Chicagoland area. My driving mates wanted to find somewhere which was featured in the show "Diners, Drive-Ins, & Dives" (I think that's the name of it). You'll see where we ended up!). The book Ron is holding up is something his GF put together for him. It had all of the cities of the Power Tour all set up with where he'd be staying and the routes to get there as well as the venue sites. Nice GF!!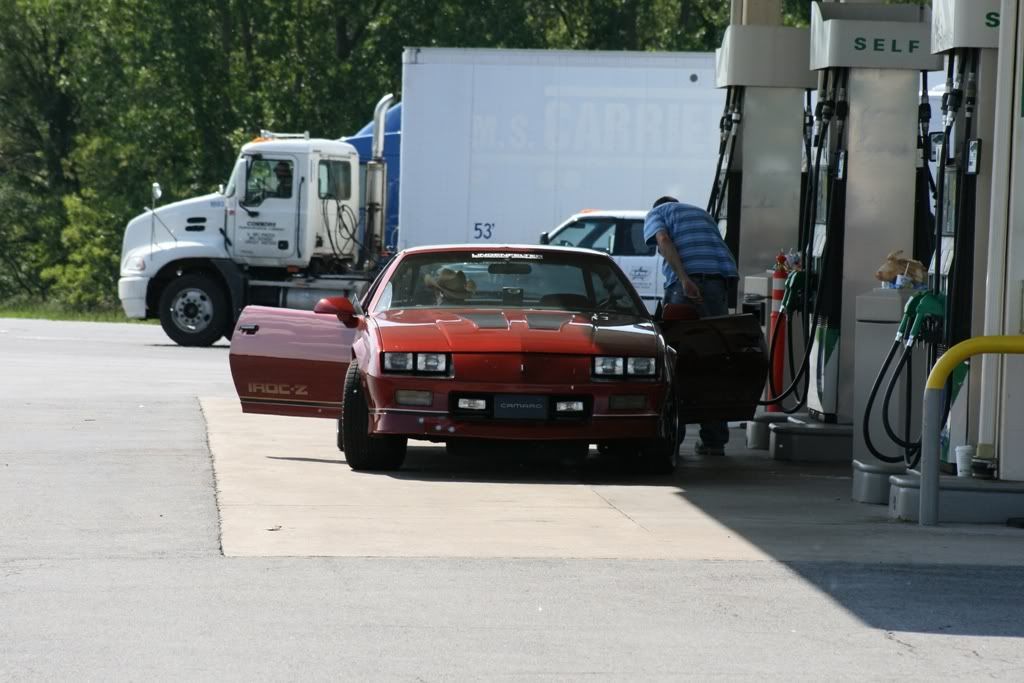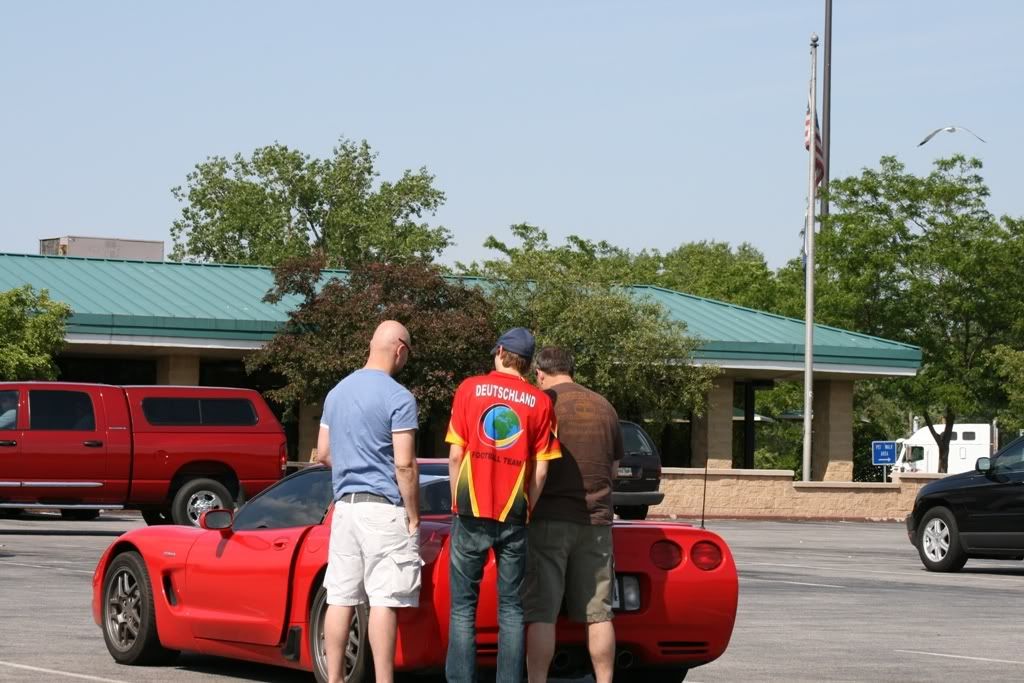 Finally made it to Chicago. Some of the worst roads I have ever been on. I don't know where their tax money goes, but it's not to the people putting down concrete to make the roads decent. Anyway, here's a view of us in a traffic jam. It's a view I got used to today, lol! I didn't have any issues following Tom and his Corvette. I was able to keep up for most of the trip
.
We stopped in this parking garage in Chicago. I was a little worried about leaving our cars in there, as I'm paranoid like that. Nothing happened to them while there, though, so my paranoia was unfounded. I love driving my car in parking garages. The loudness is AWESOME!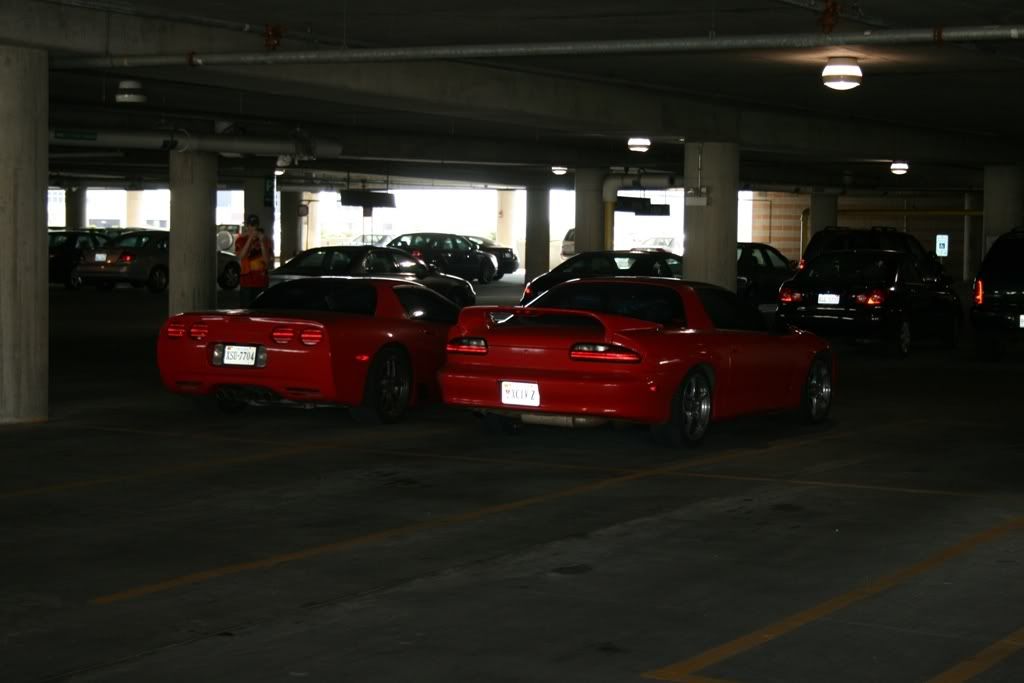 Here we are outside of the Restaurant. It is called the "White Palace Grill" (As if you couldn't read. That's me and my son, btw.). It was featured on the TV show I mentioned, and let me tell you the food was terrific! I forgot to snap a pic from the inside of the restaurant, but my friend took one on the outside.
When we got to the hotel in Madison, there was a great looking Camaro sitting outside (there were other nice cars sitting in the parking lot as well). I didn't take any pictures (will do so on the "official" fist day of Power Tour), because we were so tired from our 15+ hour drive. It was a long way and we were beat (not to mention the cars were beat, too!). I'll see if I can get the pics to keep all of you car fanatics out there happy! Till then, enjoy what I have for you!
**********************************
June 6 - Madison WI
Well, here we are on day one of the Power Tour. We are in Madison, WI, and it was raining most of the day. It was really cold (well, relatively so ... ) and with the rain it made it even more fun (uh, yah). Yah, we had fun. Started off in the morning by going out to the parking lot again and finding a few more cars I didn't see the night before. Oh, and remember the yellow GTO? I was talking to the owner of the car. Seems there is a twin turbo setup on the car (visually verified by me, lol). 5 psi boost and the car puts down over 500rwhp. This is one nasty sleeper Goat! Oh, and the car under the checkered car cover is a 66 or 67 BBC powered Chevelle. It is plum nasty! Anway, here are the other cars I found in the parking lot: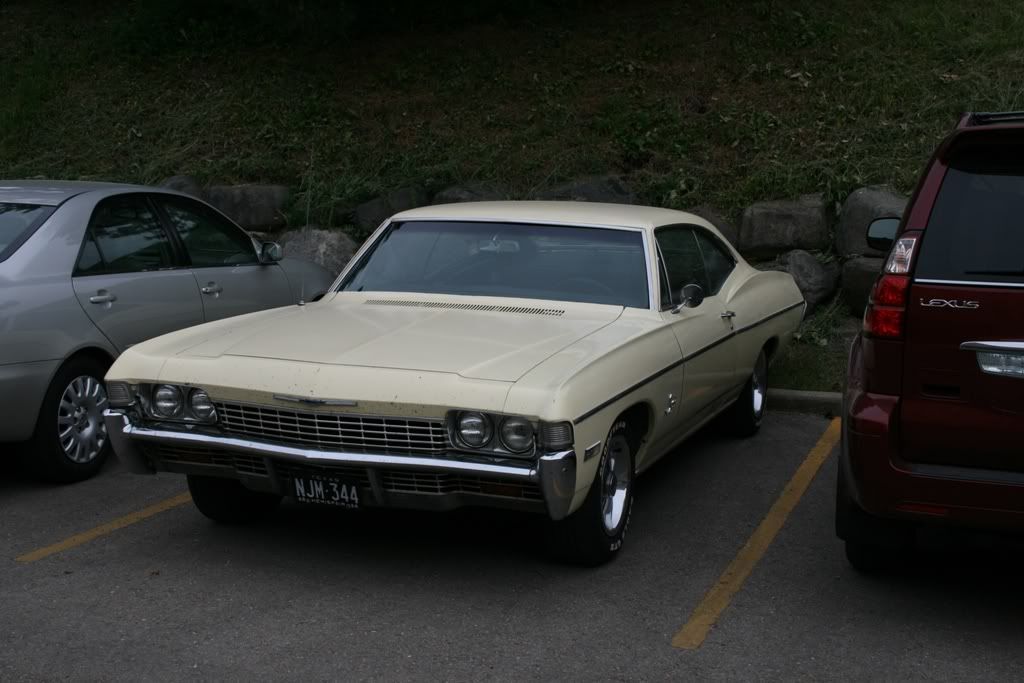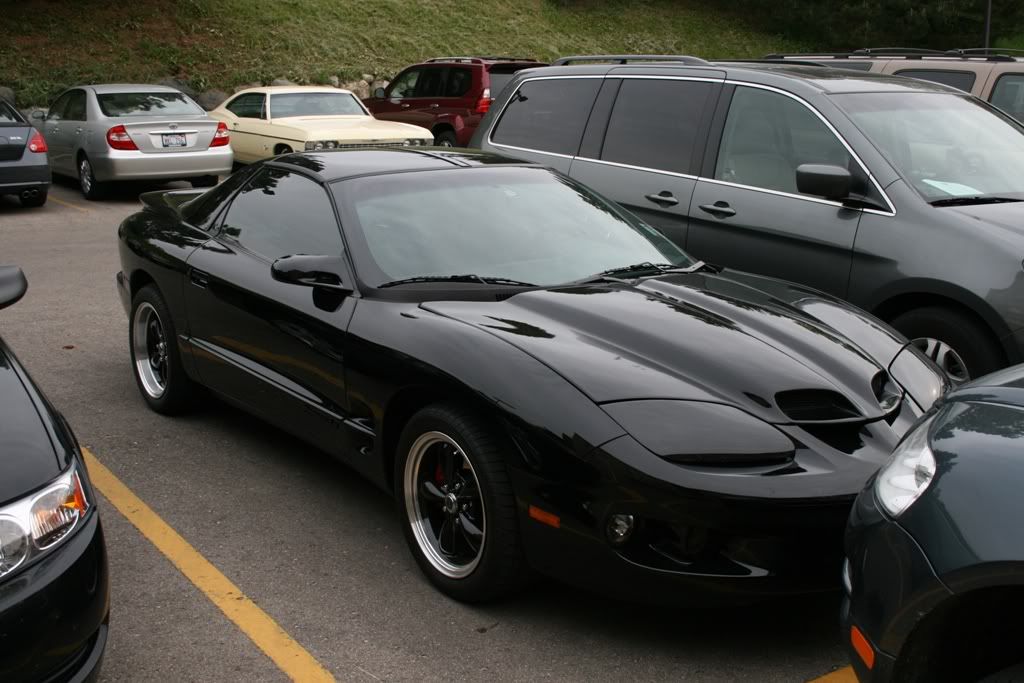 I love the license plate on the green Charger, lol!
Before we left for to go down to register, we decided we would get our cars cleaned up. Stopped by at a wash place about a block from the hotel. Worked out pretty good. My friend was getting his Vette polished. I liked the job they were doing so well, I had them do the Camaro as well! Turned out pretty good.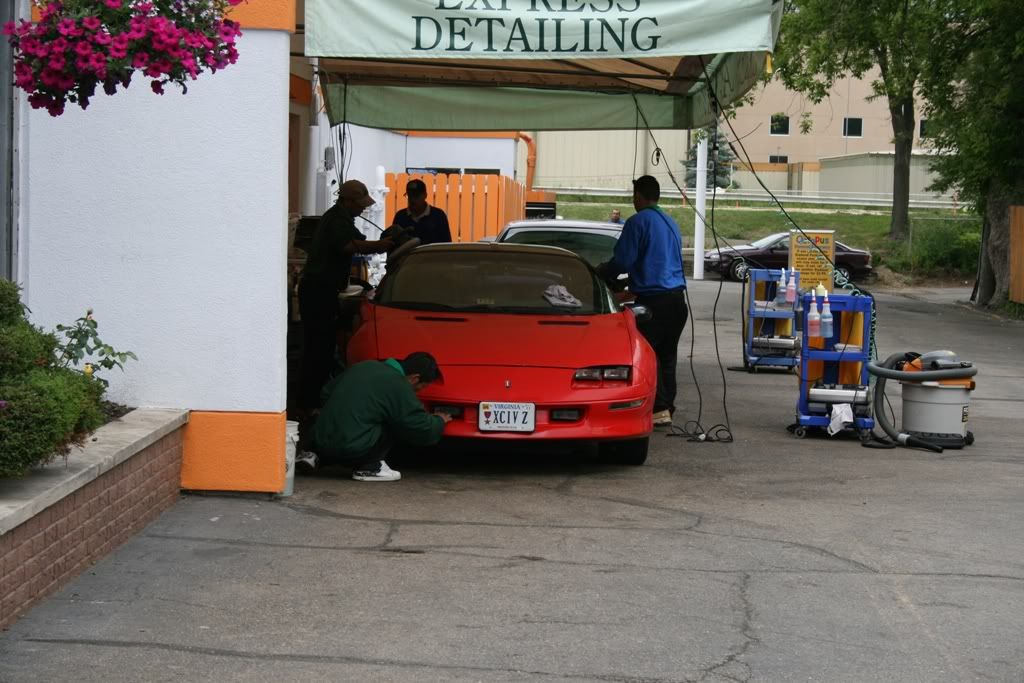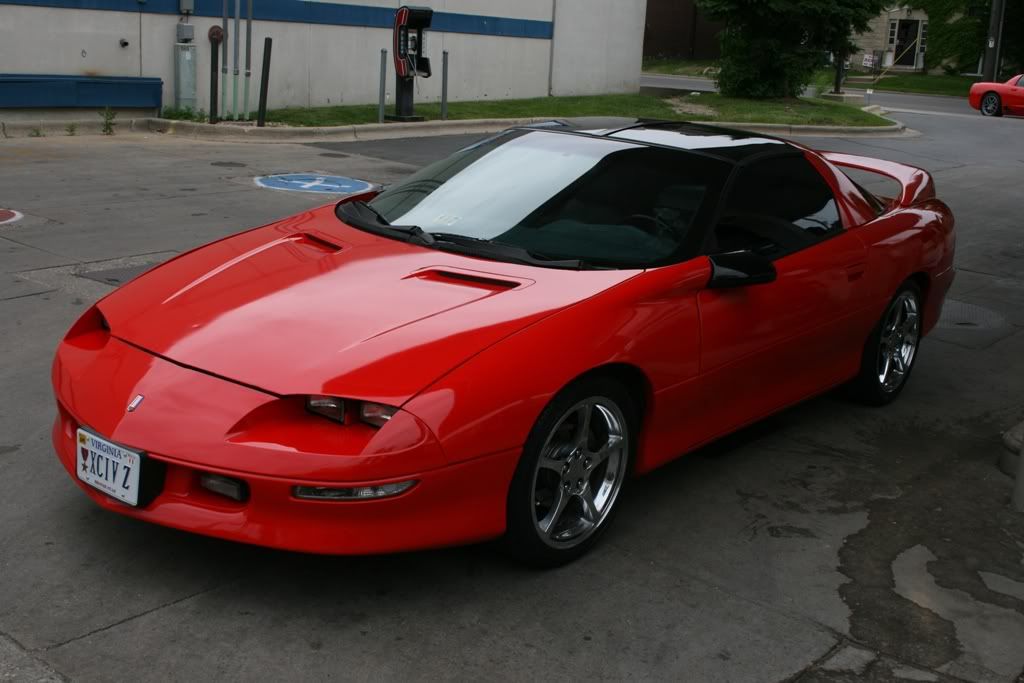 Here is Tom pulling into the parking spot at the HRPT.
Before I get to showing you cars and such, know this: There are way too many cars to get pics of every great looking car on the Tour. I'm hoping over the next couple of days I can get a lot of the ones I like. I know I didn't even see all of the cars today there were so many. So, I'll try to give you all a good sampling of what is here.
One of the cool exhibits here was from Ring Brothers. They had the Razor and Reactor (both featured in Hot Rod Mag) on display. Razor is just way too awesome, so here are some pics of it, and one of Reactor (the Mustang). It is a beautiful car in it's own right.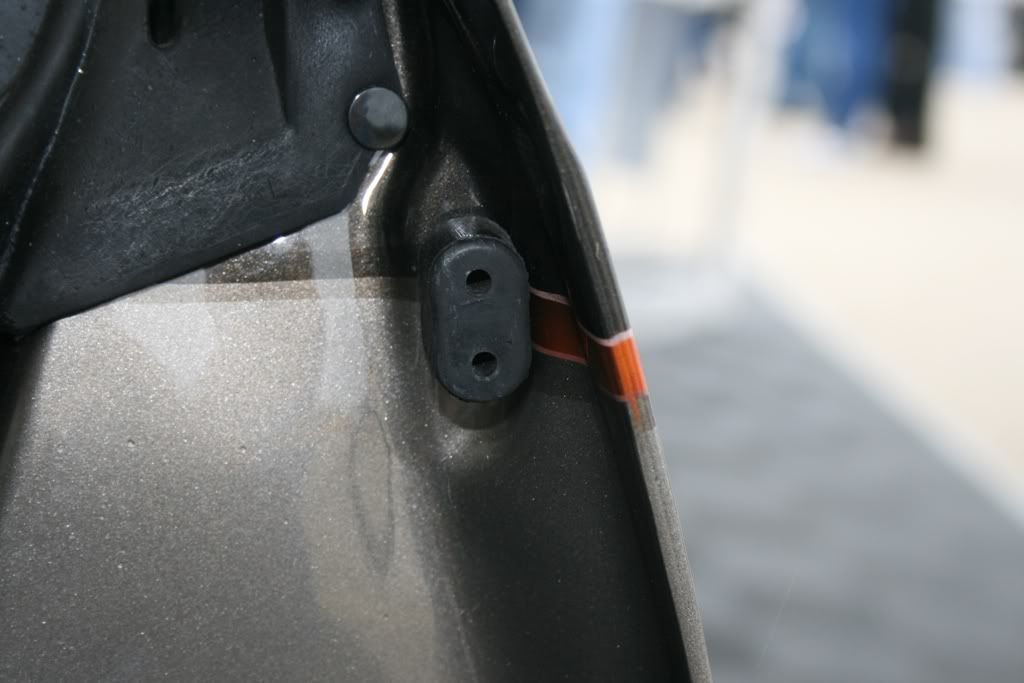 Here's a pic of Vic Edelbrock. He was there signing hats and posters. Very kewl!
Here are some of the other pics I took. Like I said, it was raining, so some of them didn't turn out very well (I should work on the contrast/brightness on them and maybe they'd look better). So, not in any particular order, here are a few cars I found interesting.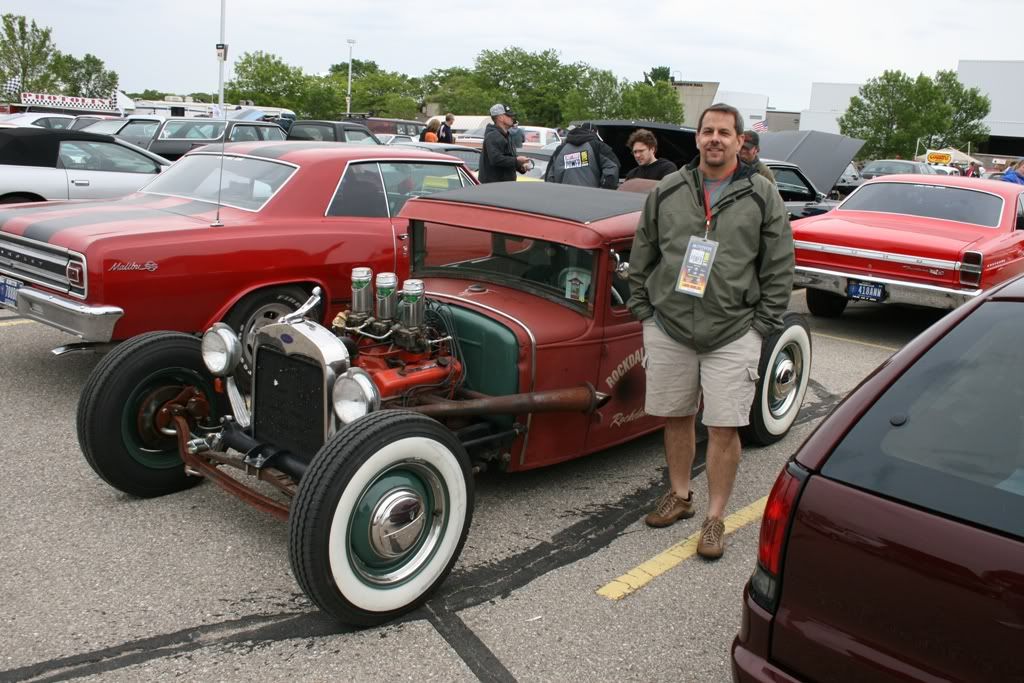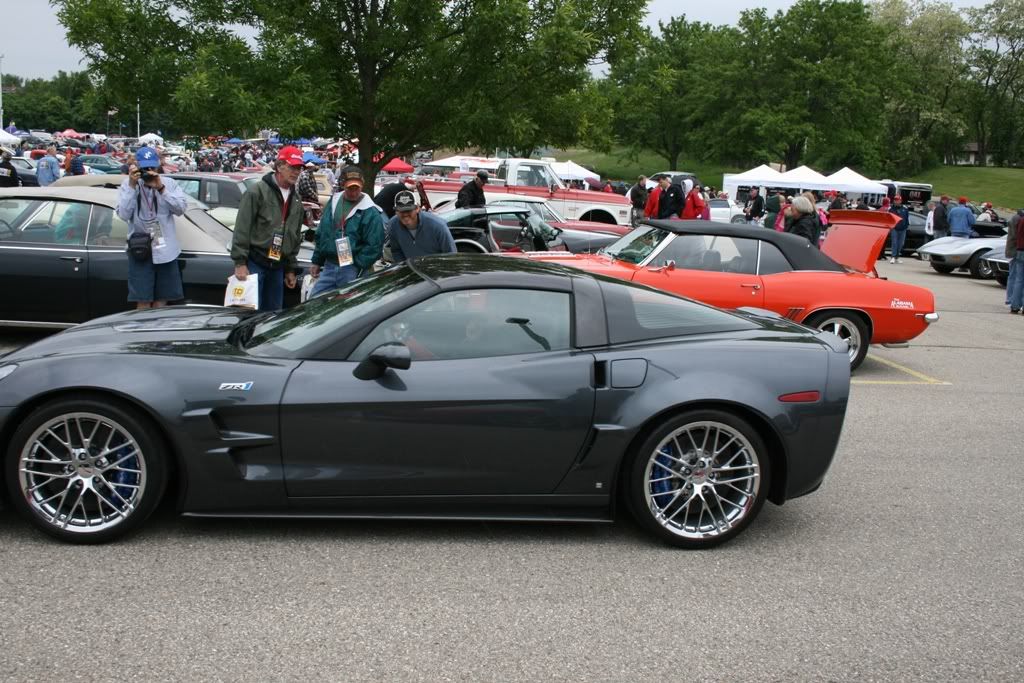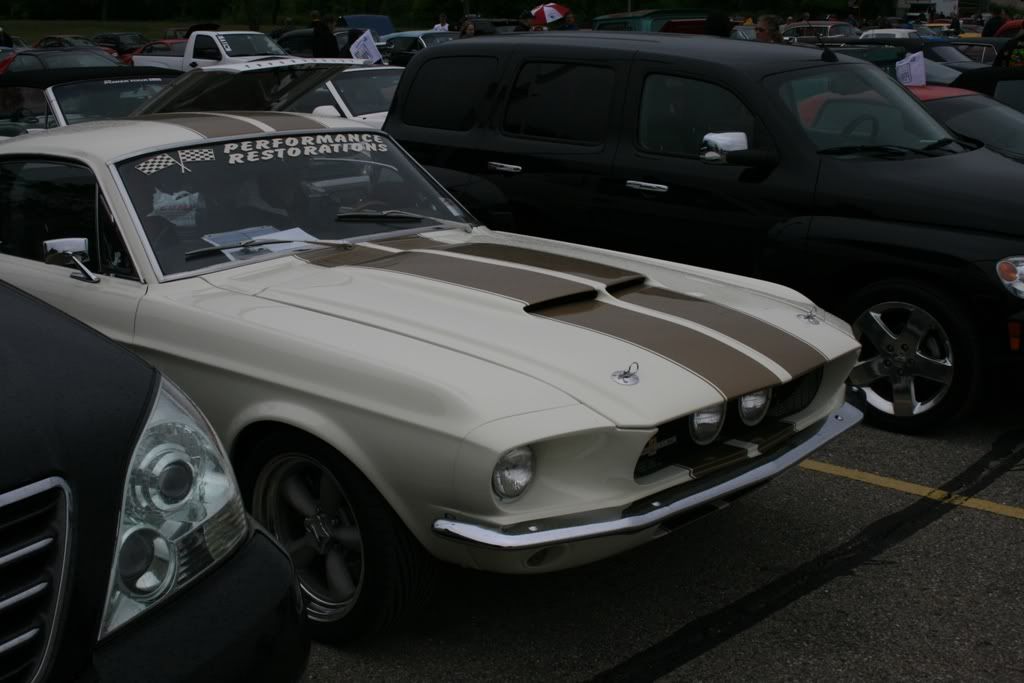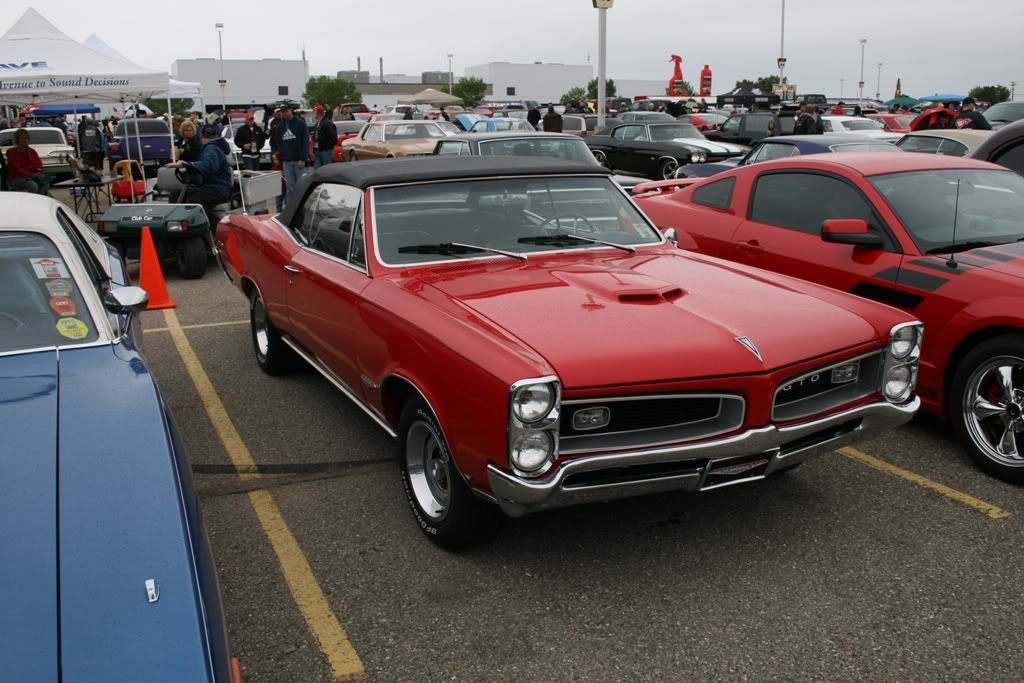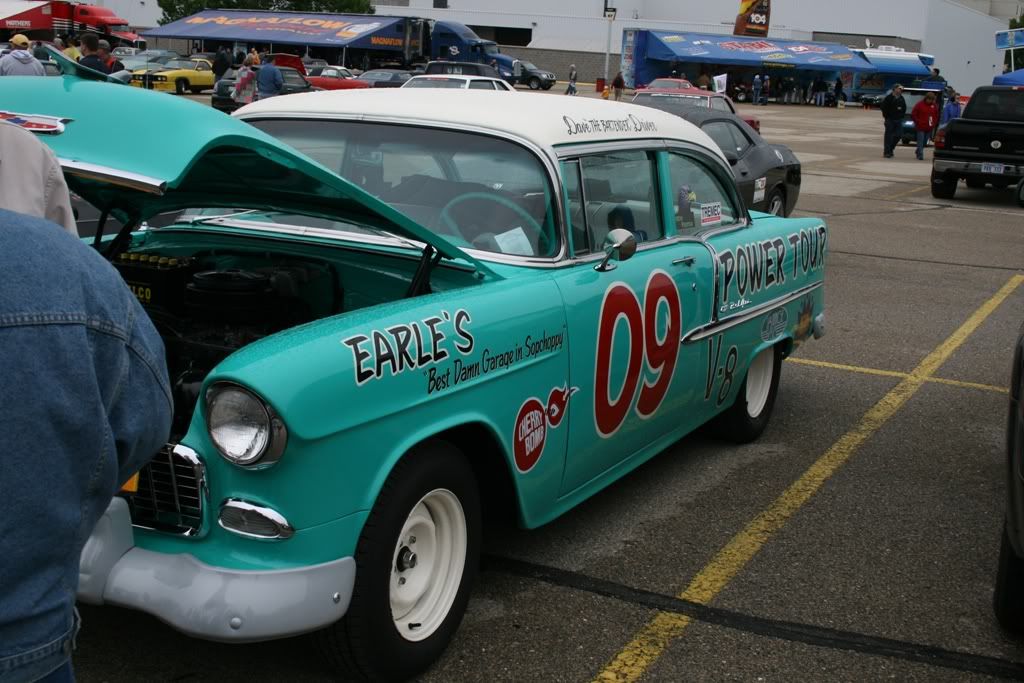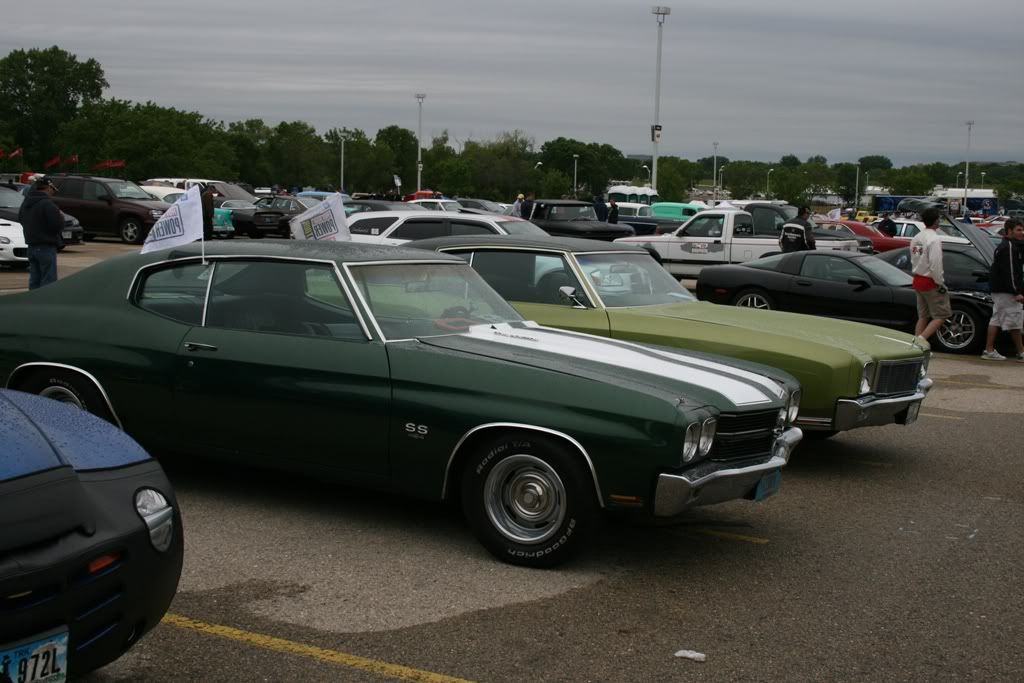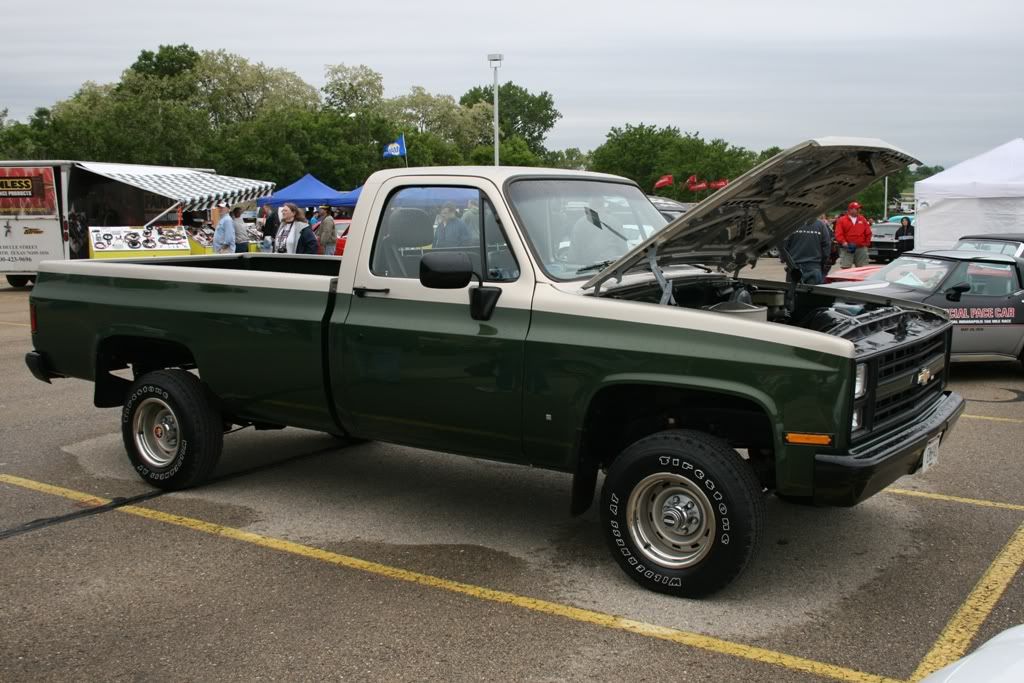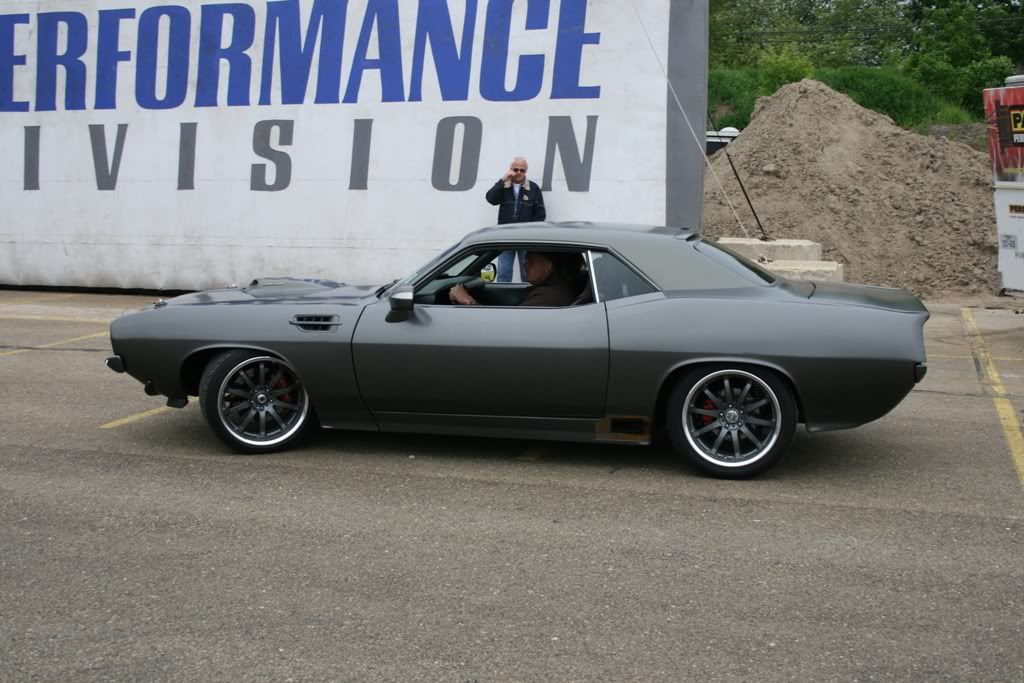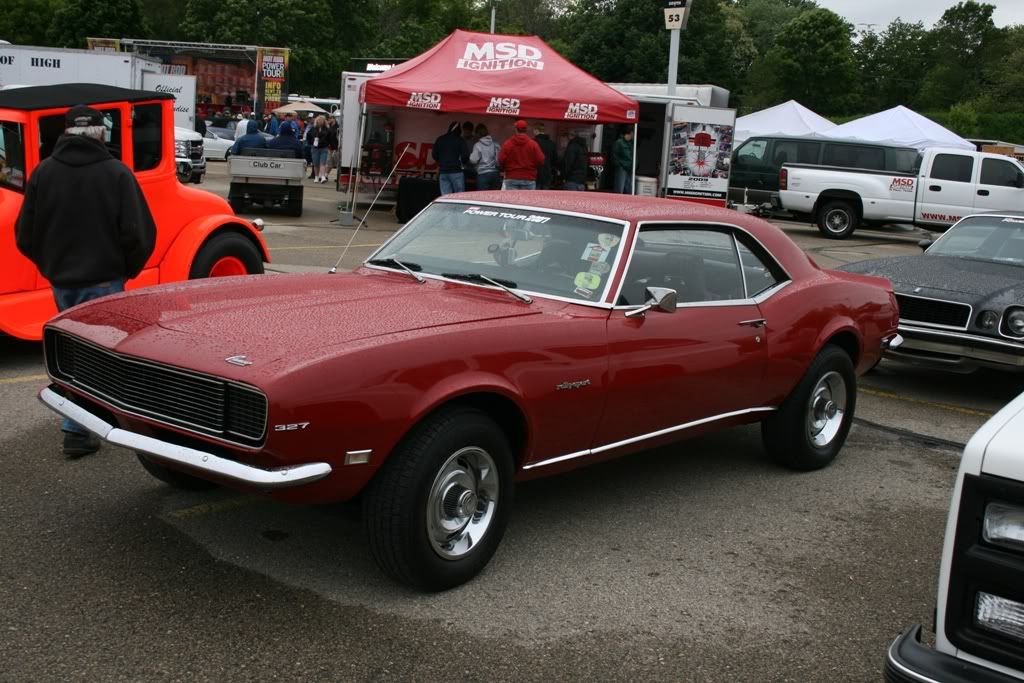 So, tomorrow we will be traveling to Racine. there is supposed to be a drag race somewhere in between here and there. Today there was a short slalom course about 150 some cars did. The drag race will be the second part of it, with the person/car that has the best consistency wins. Should be a good show. There is also the Mobil1 Dyno Challenge going on. We saw some awesome cars up on that thing. It's so kewl when you hear them pull up on the dyno and they don't sound like anything special, then they hit the throttle and hear it peak somewhere around 8k rpm and you are thinking HOLY CRAP! There was a Hemi powered Challenger (old school) which also had nitrous. All I can say is DANG! Well, till tomorrow!
**********************************
June 7 - Madison to Racine, WI
It was an okay day for the drive to Racine. We went to the driver's meeting and had a great time on the road between. Heading east, we were headed into Cambridge, WI, and ran into a 5 mile backup (caused by those stinkin' hot rodders!!!
) I couldn't believe it. Here are a couple of pics I took while rolling down the road at two miles an hour (or so).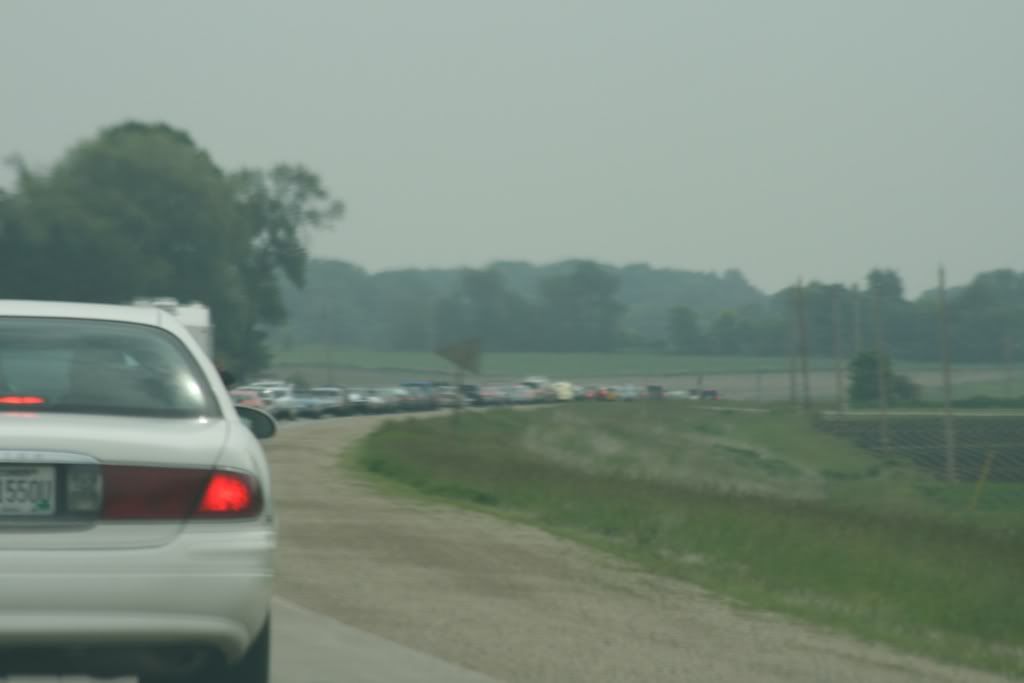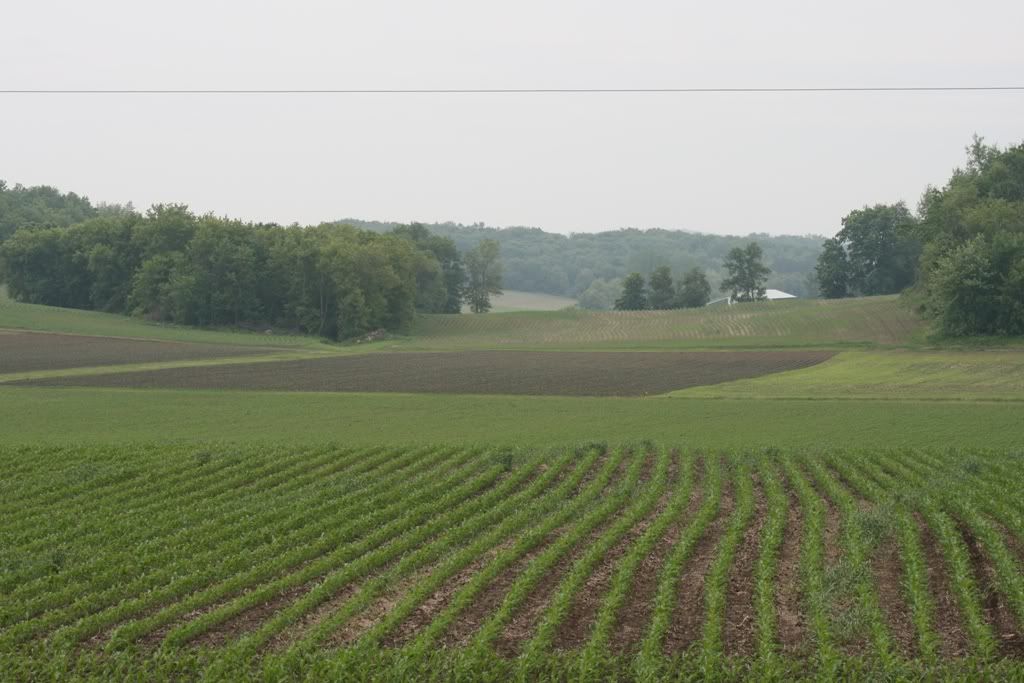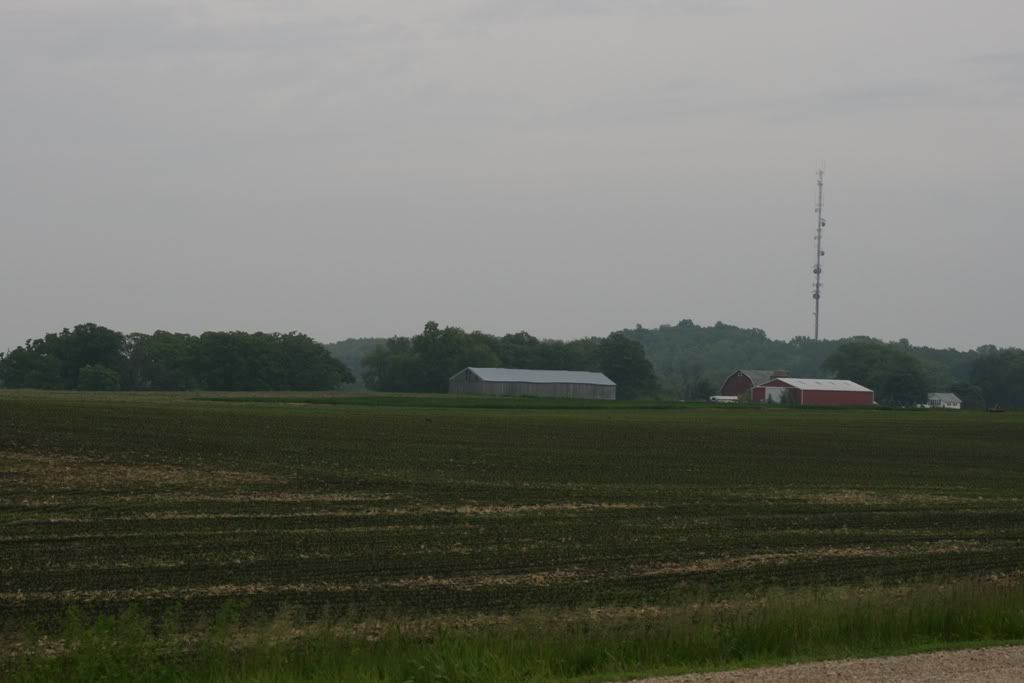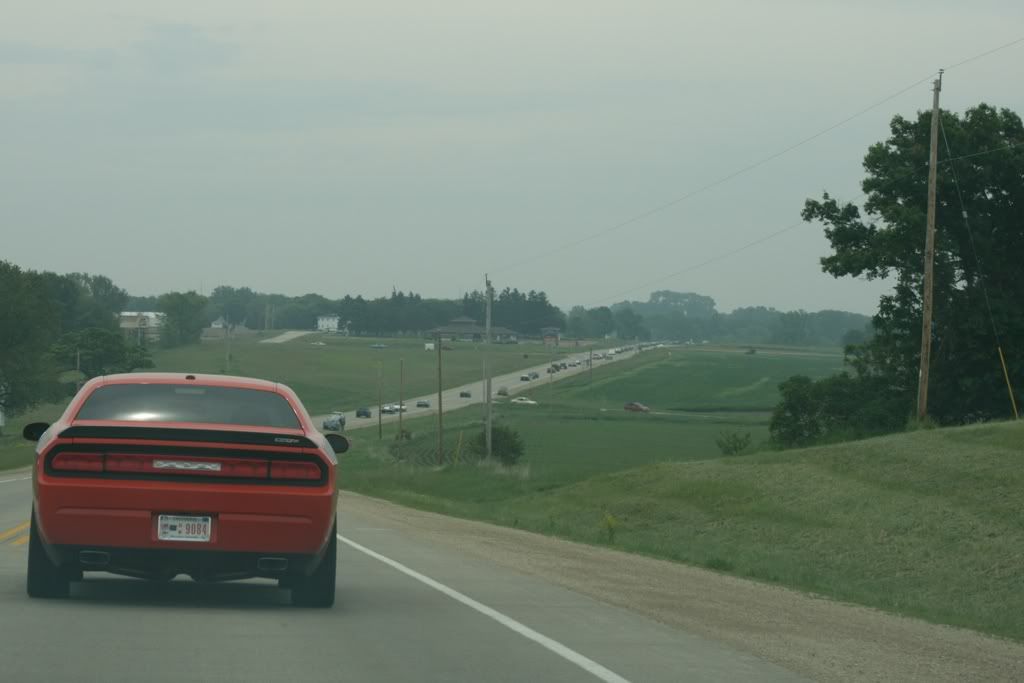 After we got to Cambridge, we figured out what the issue was. There was a gas station right at the beginning where EVERYONE stopped ... little did they know there was plenty more to be had in the town. Two things happened in Cambridge. First, right down town there was an uphill grade. You could tell everyone was putting on a show for the locals with a certain "scorched earth" policy (lots of rubber in one certain spot!). Well, looked like someone got stupid, as a T-bucket ended up hitting a small local car. It really pained me to see the front chassis parts all crunched, knowing they would not be able to find parts down at the NAPA store for it. Second thing which happened was there was a group of kids (teenagers) sitting on the side of the road near a stop sign. You could tell these kids were egging on the HRPT guys, cause there was a lot of rubber left behind here as well. I was no exception, lol! I rolled up and they started rolling the arms over in a circular fashion. I wasn't going to, but my son insisted, so had to give them a show. I got sideways in the intersection and we smelled burnt rubber in the car for several miles down the road, lol! Great fun. Ok, no pics on either of those events, but thought I'd mention it. Here are a few pics from Cambridge.
A couple of T/A PCR's. I thought it was cool they were rolling together.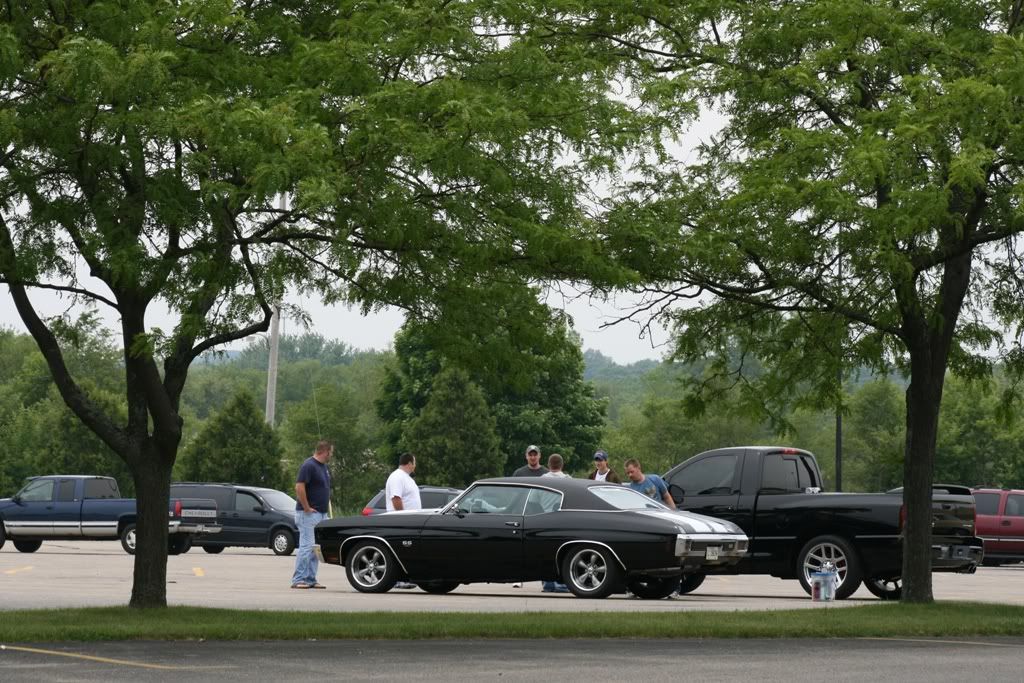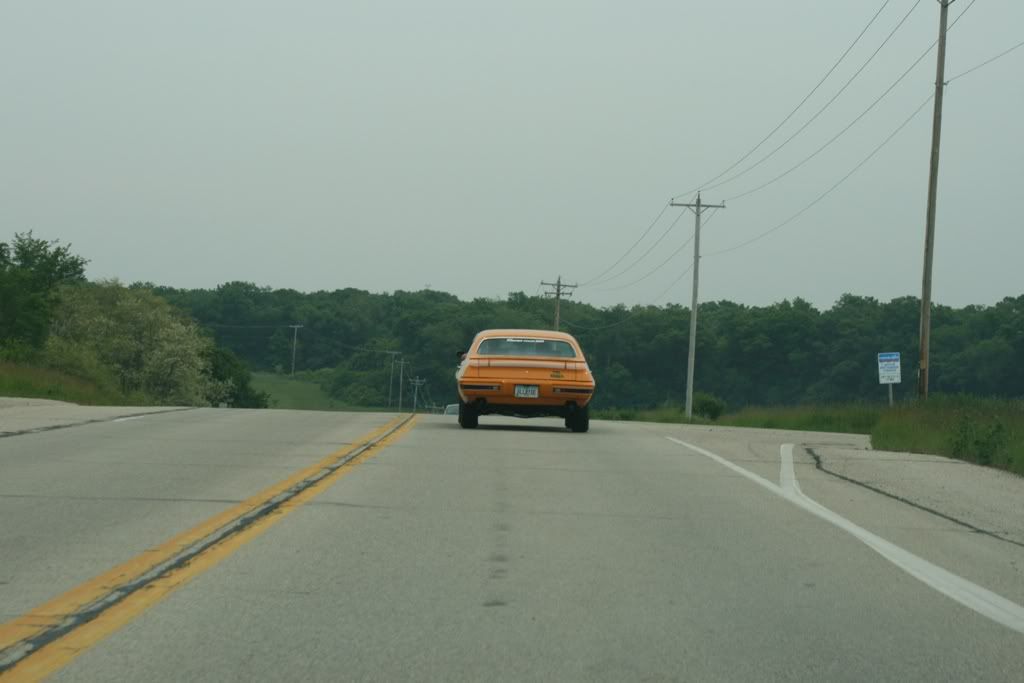 When we got to Racine, there was a long backup there as well. Once inside the city we were in a traffic jam for a while until we got to the site, which was right down on the water front. It was a great location to have it as far as aesthetics go, but not a great place to have it for logistical purposes. Here are some of the pics of the cars and the location.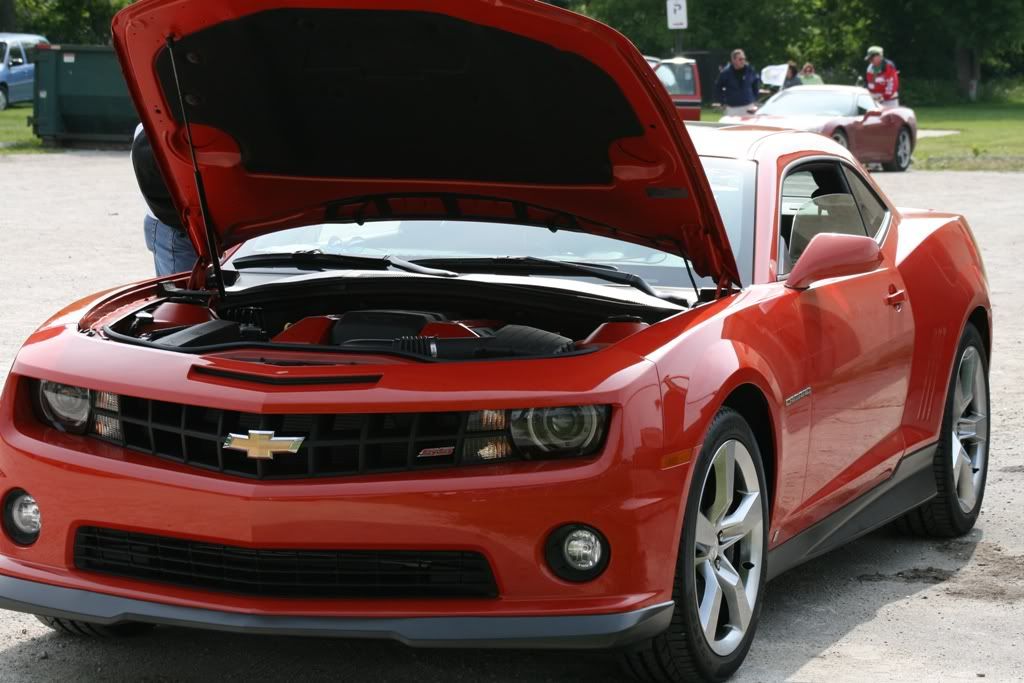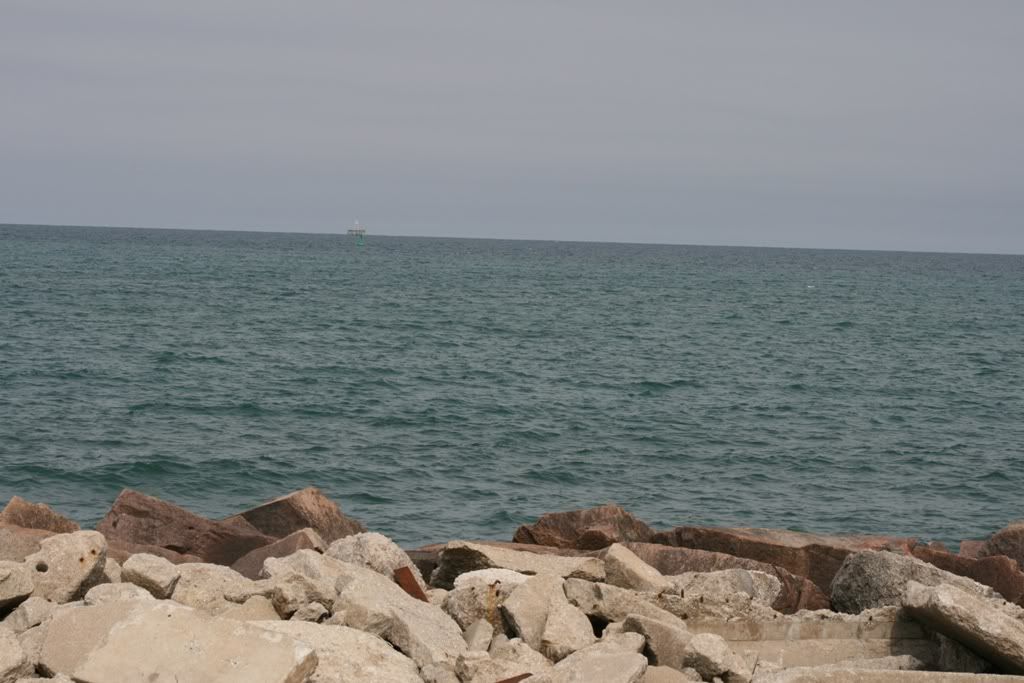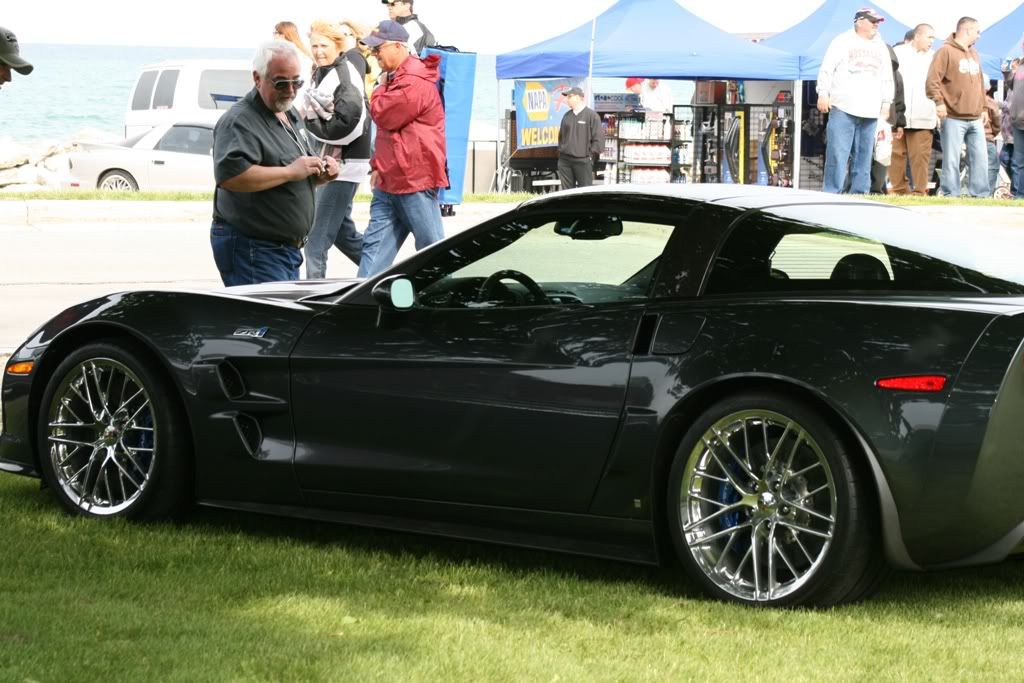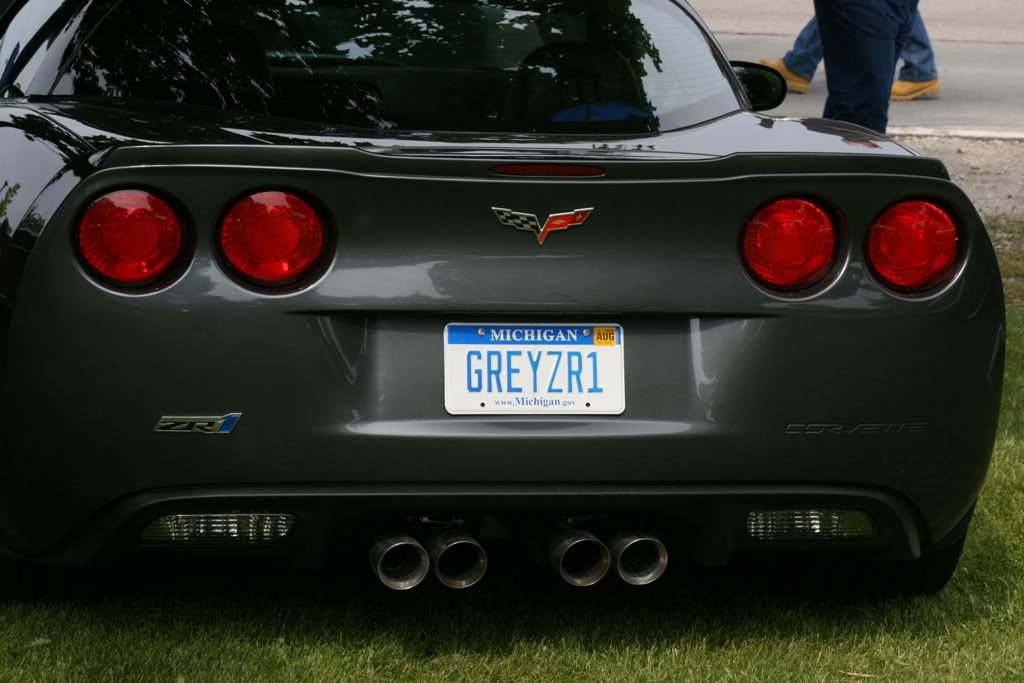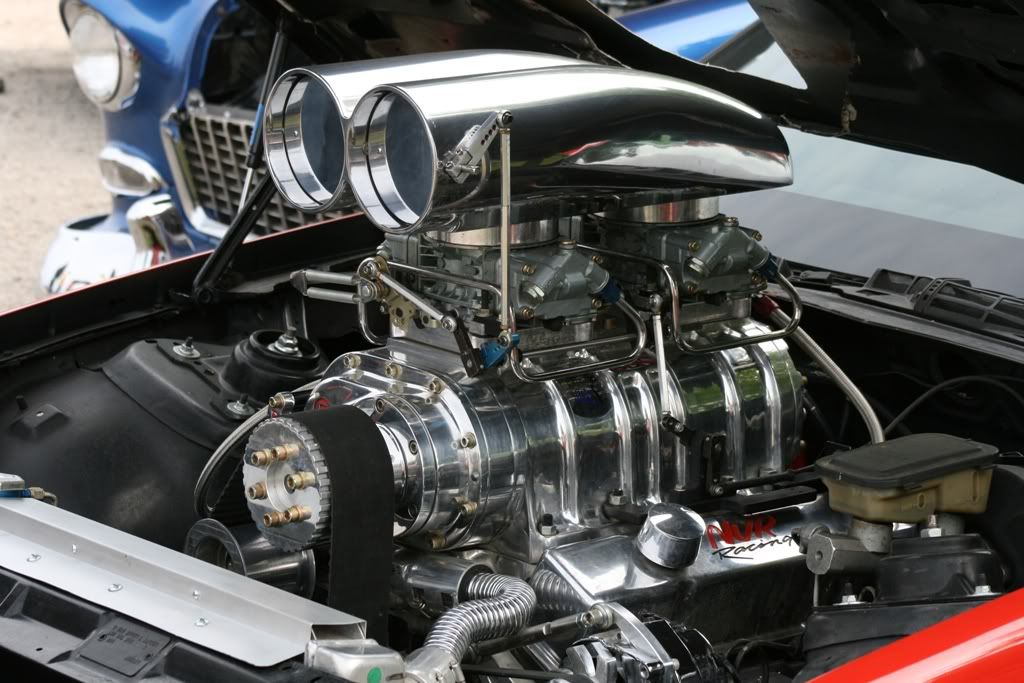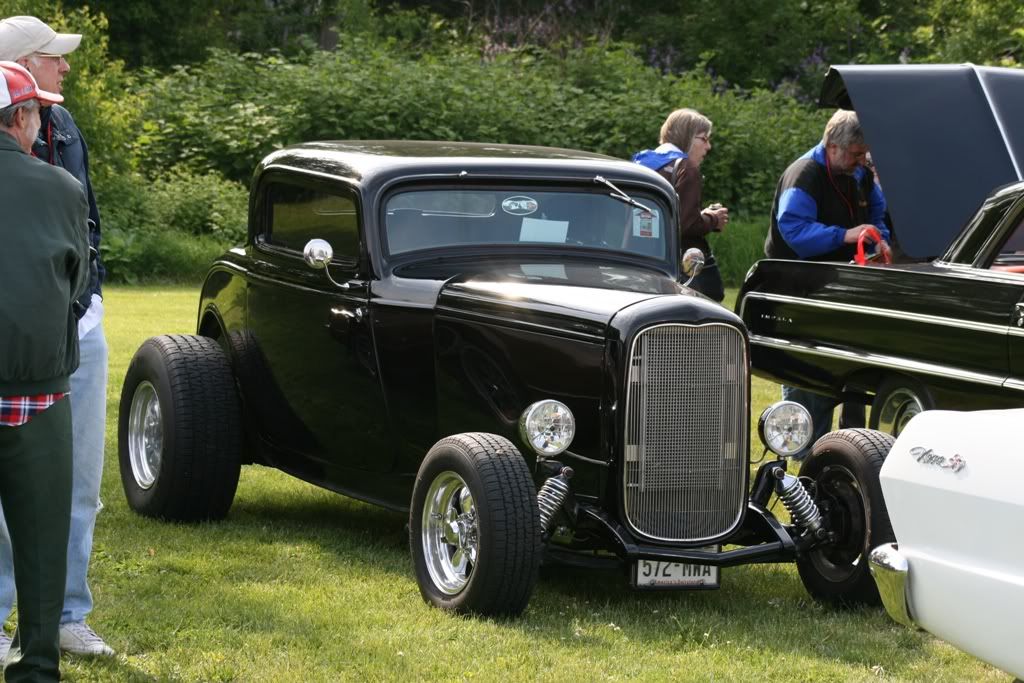 When we got back to the hotel room, we had to turn right around and head down to South Elgin, IL, where we had dinner with Jim Packard (Jpack), his wife, plus Chris & Amanda. It was really kewl. Jim gave me a ride in his car and it is way too much fun to describe! It is scary quick! Anyway, a couple of pics.
**********************************
8 June - Racine to South Bend, IN
We left Racine to go to South Bend a little earlier than when they were leaving from the driver's meeting, so thought we were doing pretty good. Then we found out a lot of people leave the night before and go down to the next site that evening. We got to the fair grounds in South Bend and there is already a huge amount of cars there. And wouldn't you know it, going up the little drive way to part the cars, there is a high ridge in the center and cranks on my exhaust, which is why Jim Grimm and I were working on the exhaust in the picture. Anyway, back to the beginning of the day, it was raining really well in Racine. Here are a couple of cars in the parking lot which were leaving around the same time we were.
An Indy PCR Vette ... very nice. We've been rolling quite a bit with him.
A Callaway Vette ... very sweet!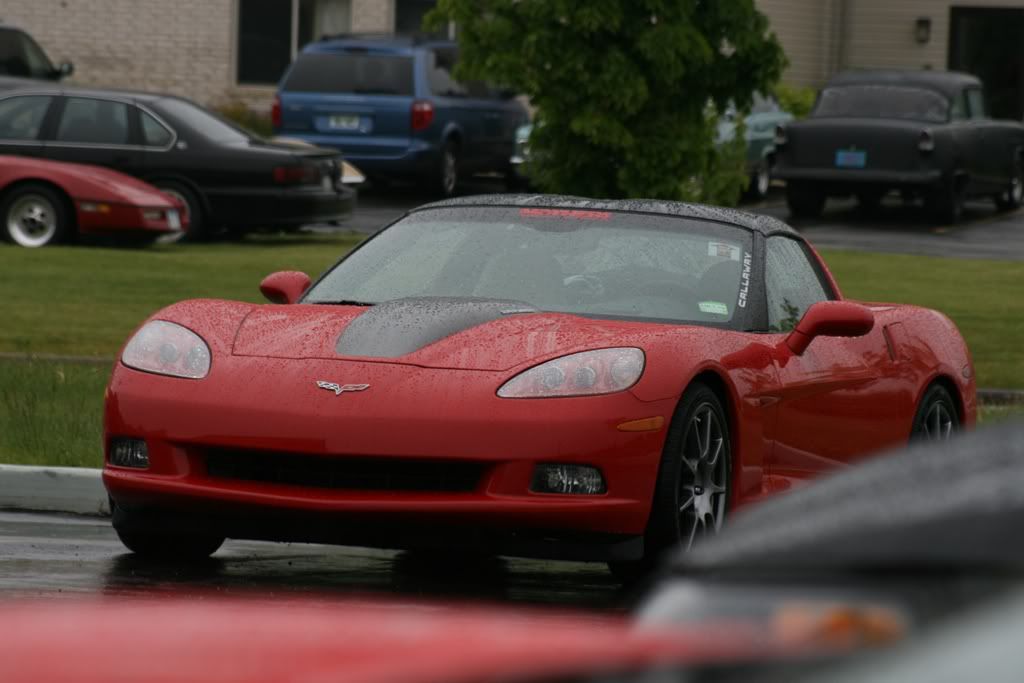 When we got to South Bend, while waiting for Jim and Nora Grimm to arrive, we found a few cars worth showing.
Here is a Nova which was built by Rad Rides by Troy. This car was done as well as Razor and Reactor. Check it out!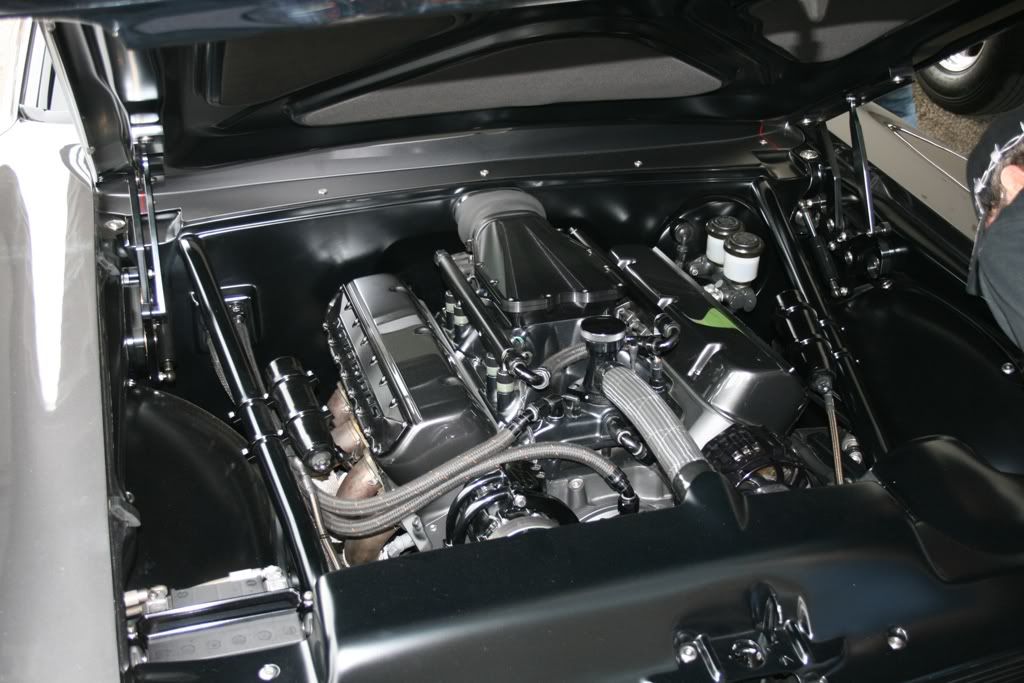 Here are some more pictures of cars (as if there aren't enough already!).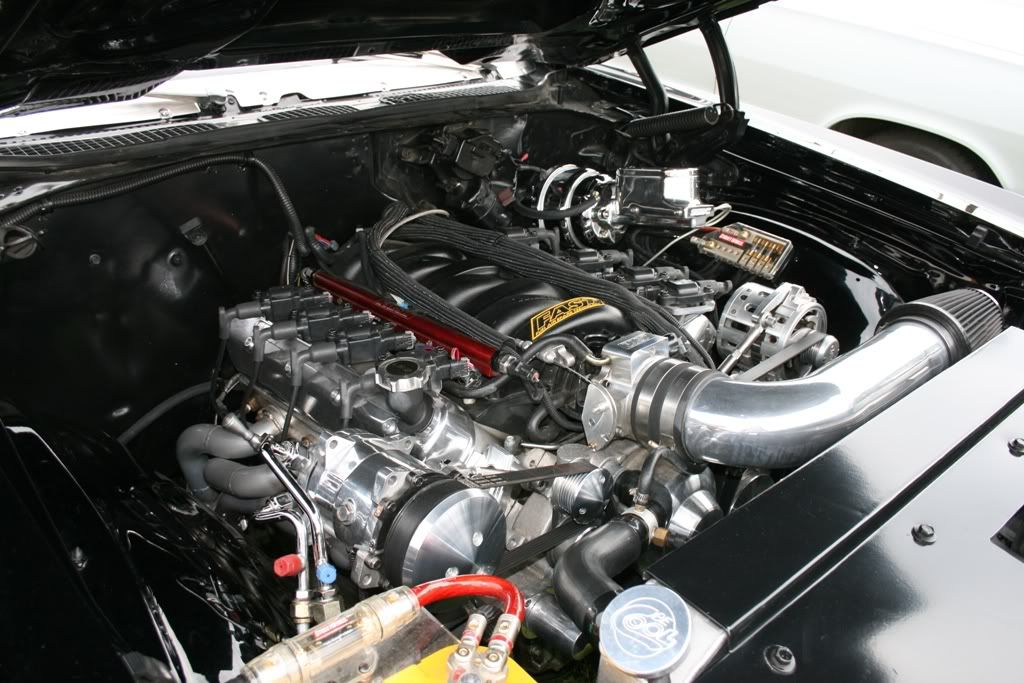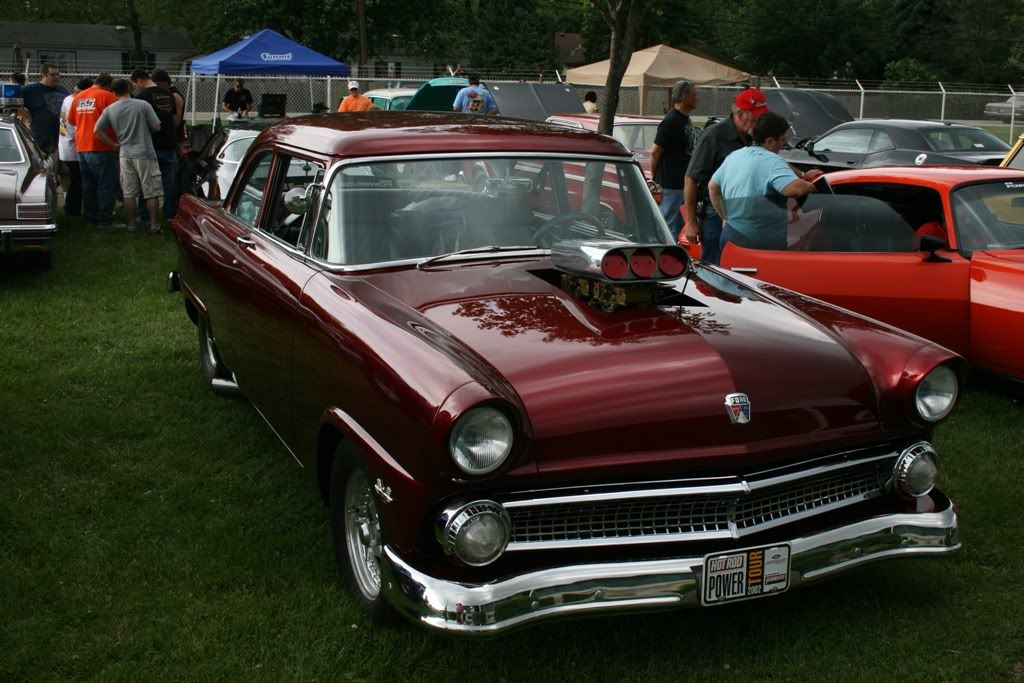 This is interesting. Here is a twin turbo charged LT1 Impala SS. I thought you might like to see.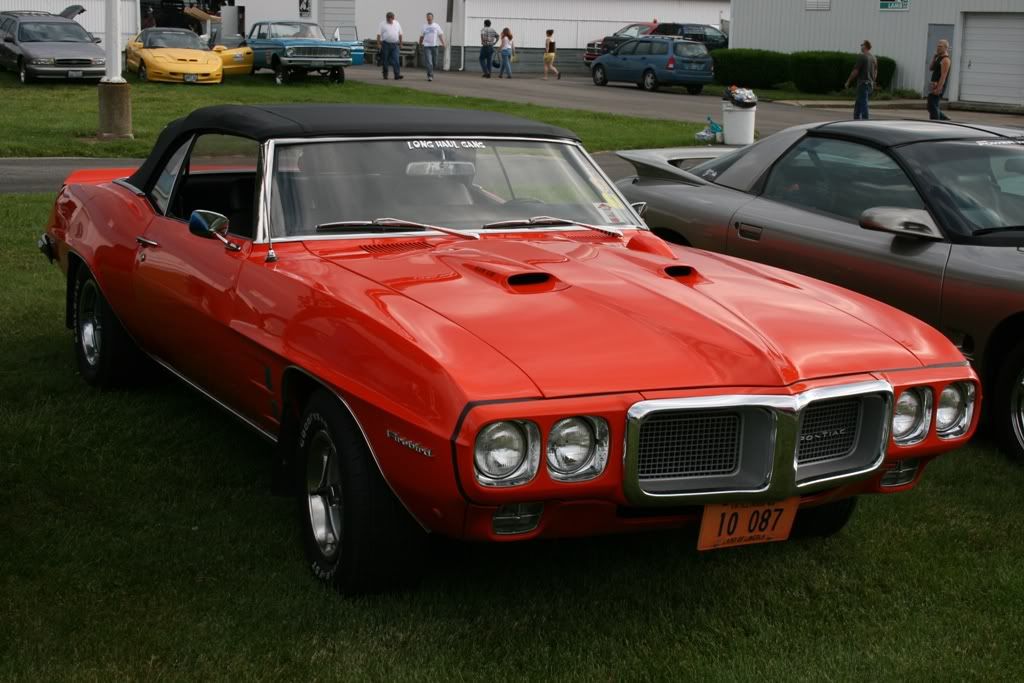 As you saw from the pics Nora posted, Jim and I worked on their alternator. Here is a pic to kind of show you what the issue was.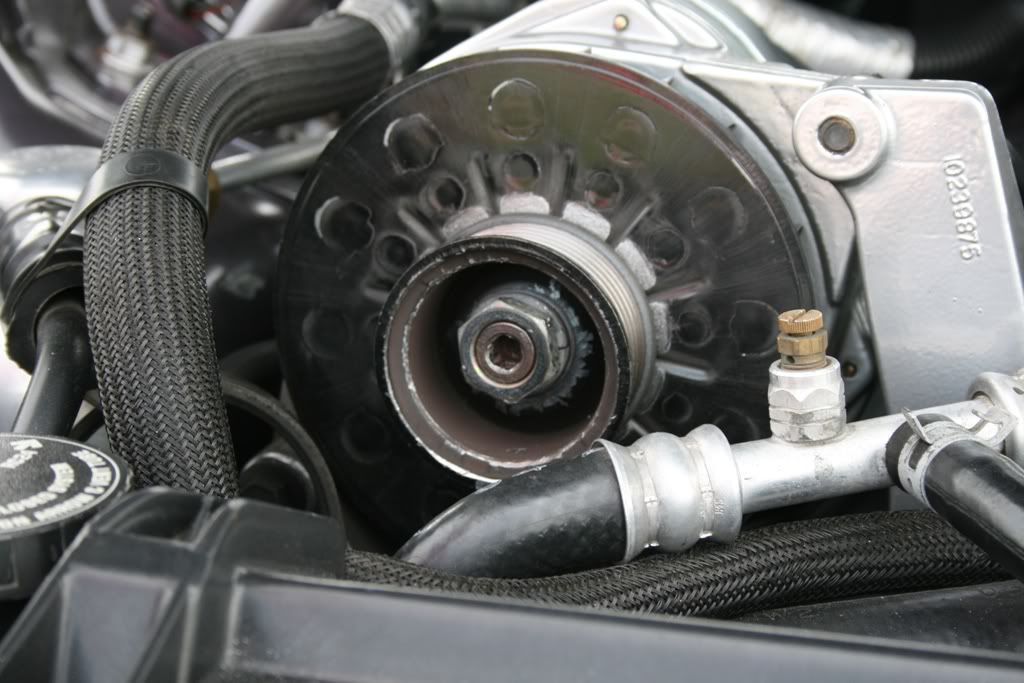 And one of Jim working on it (and Nora doing her best to pester him to death!
)
Here are some pics I took of the cars together. They might seem familiar, as I was taking some lessons from Nora on taking pics. Her's look better than mine, but thought I'd post up.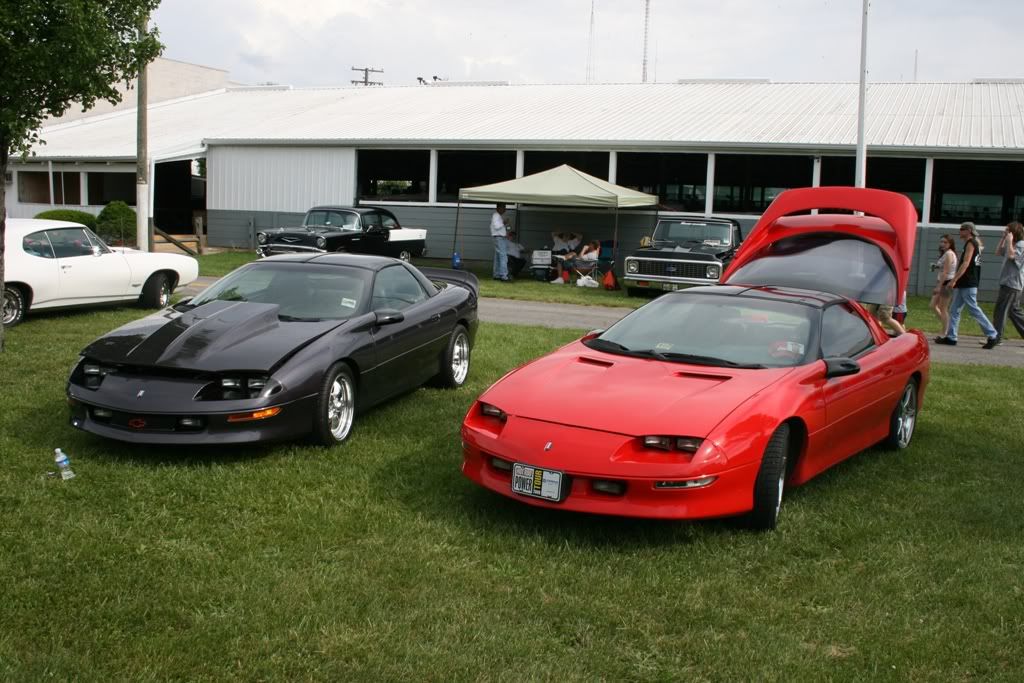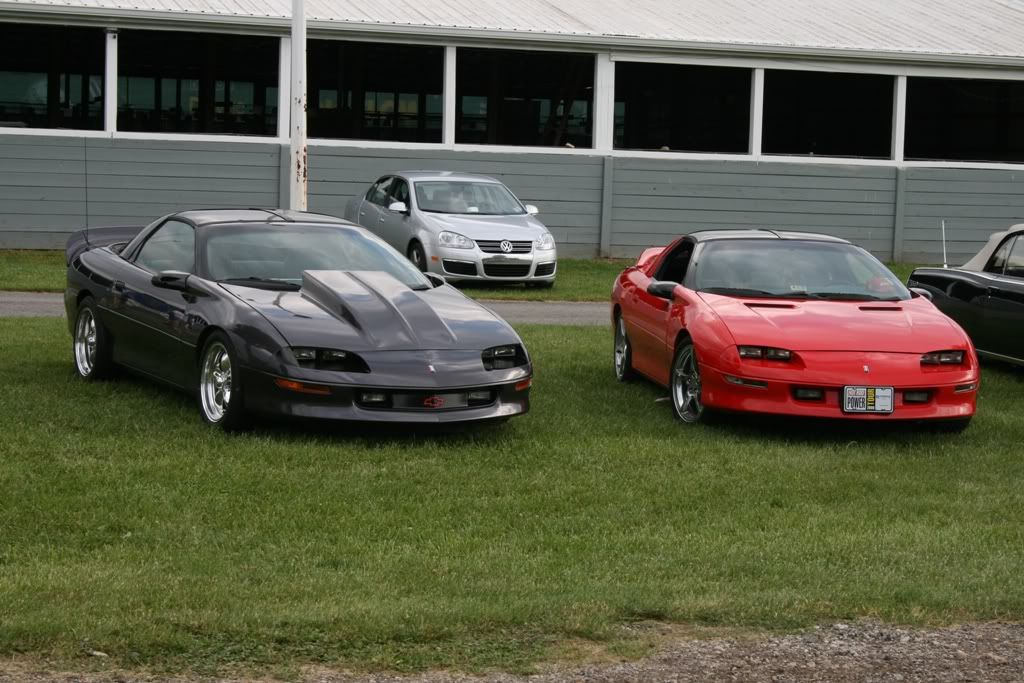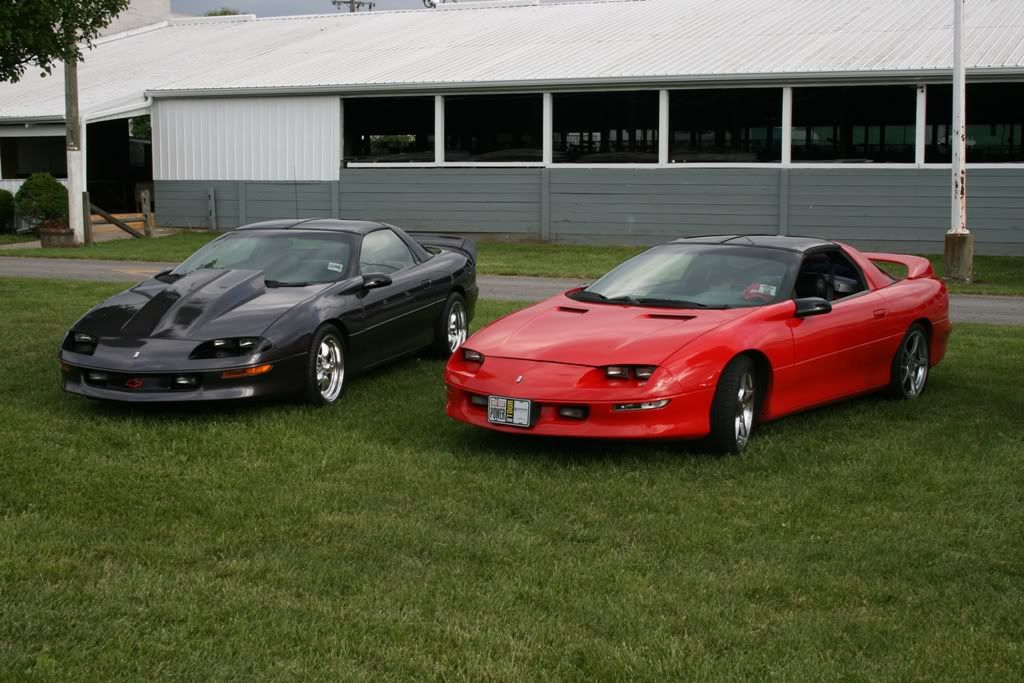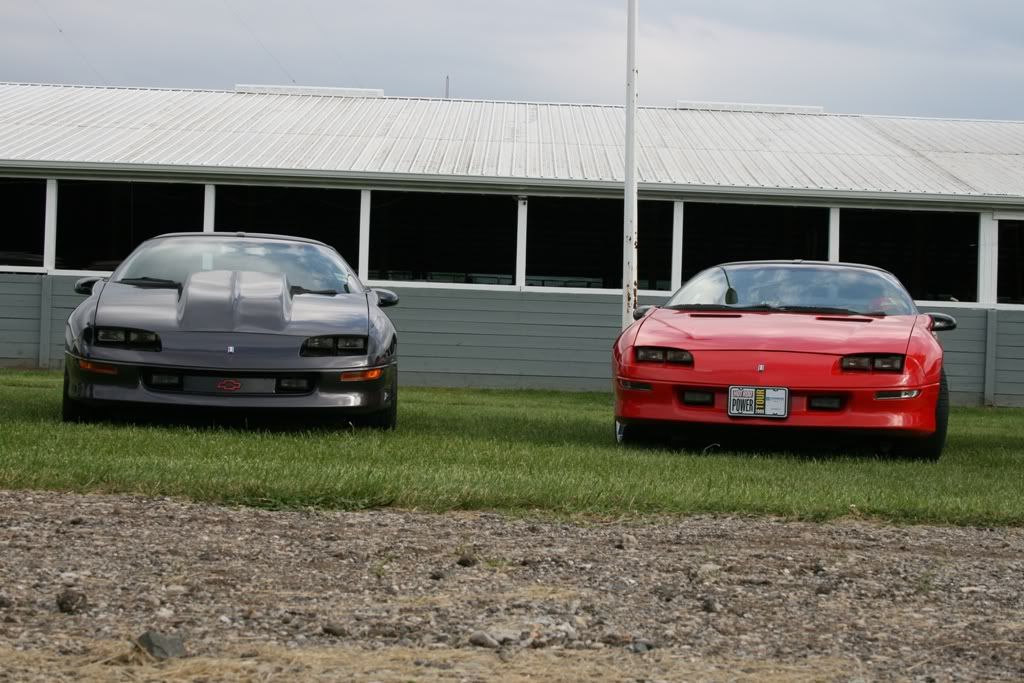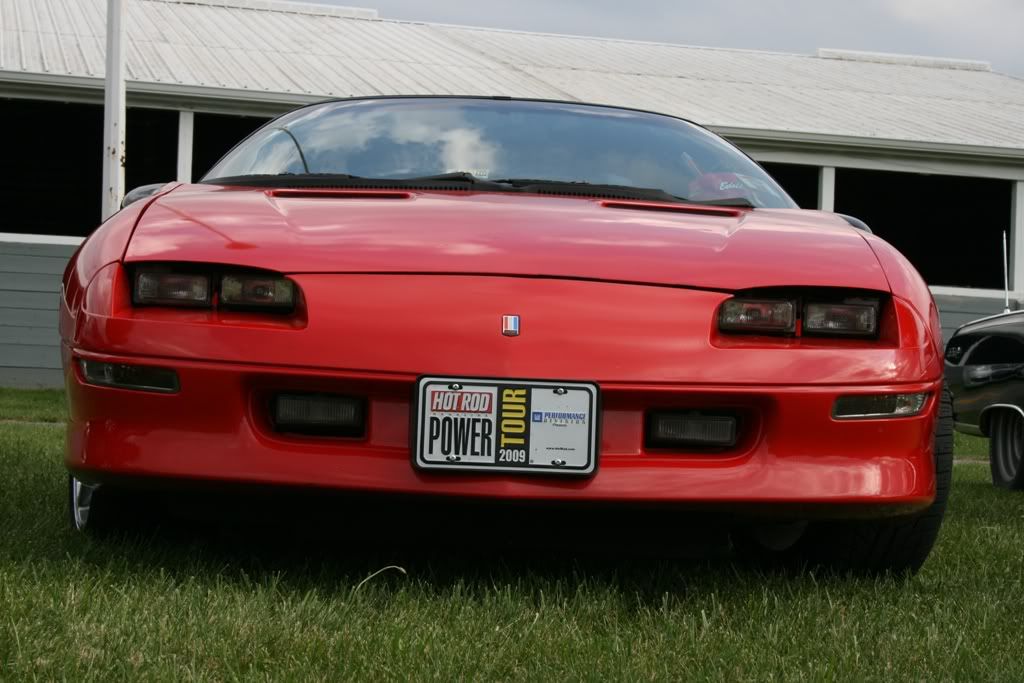 And here are two people who it was totally my pleasure to meet. I believe we will be great friends. These are two of the nicest people I have met in a long time. It was totally my pleasure to help Jim and Nora get their car back on the road ... not that Jim really needed any help). I was just glad we were able to get the car running and they were able to get home in one piece. It really sux about the old alternator, in that they had just had it powder coated and rebuilt, and then it goes and blows the pulley off of itself.
**********************************
June 10 - Warren to Dayton, OH
Today was a little better than yesterday. We got out to an early start and it was a great day for traveling. The weather was a little dreary at first, then it turned better towards the end of the drive. It was really cool here in Dayton, as the cops were actually directing traffic into the venue. We didn't experience any type of traffic jam because of this ... coming or going. The only other place we haven't experienced any real traffic problems was at Madison. That was due to the venue site and not really having to do with any how the police were operating. Anyway, some more pictures for you.
Here are some pics my son sent me which were taken from his phone. The first picture of the Camaro is totally awesome car. The blue is absolutely flawless. It has an Lingenfelter LS7 with a blower. The body is placed on a C5 Vette suspension. The interior is pretty much out of a Vette. This car is beautiful! I will be taking some more pics of it tomorrow as it's been to all of the stop locations. Tell you more about it then. The other pic is actually from Racine of a ZR1 I was walking near when my son snapped the pic.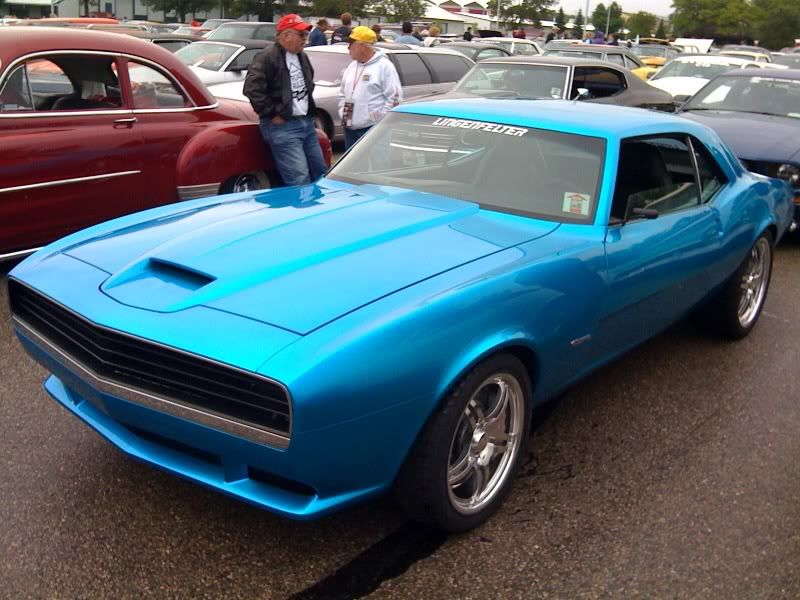 This is a Lingenfelter modified Camaro with a blower on the top. The interior has also gained some new appointment. It is a really nice car. They had just pulled up when we were walking up to where it was getting parked. The guys (there were four of them) wedging themselves out of the car were spouting about how fast the car was. Sounded awesome, that's for sure!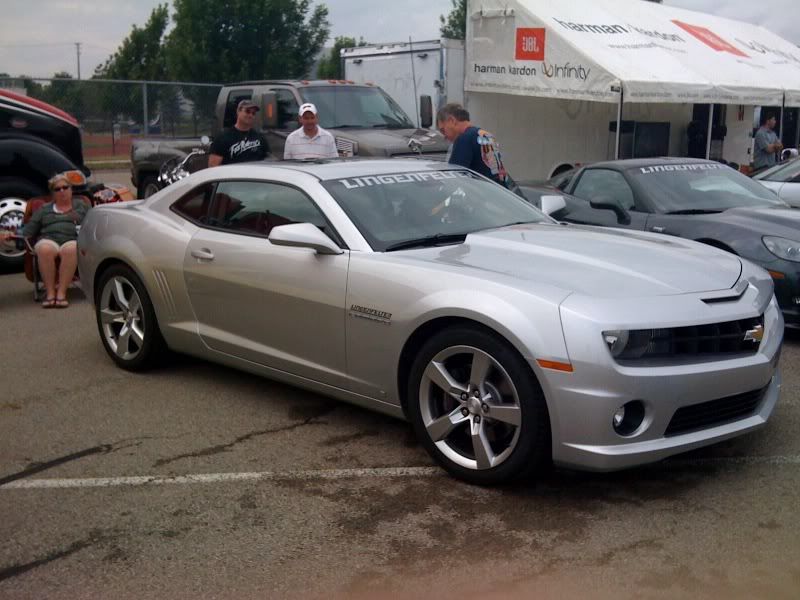 I started thinking today about what I actually want in a car. While the looks of a car are always important, it definitely takes a back seat to performance. All this week I keep hearing all of these Chevys with BBC in them. I don't know what you guys think, but IMNSHO, the BBC has a distinct exhaust rumble which cannot be confused with any other engine. We pulled up to a gas station and started talking to a guy with a 68 Camaro with a fuel injected 502 with Dart heads. This car looked great (sorry I didn't get a pic of it as the camera wasn't handy). My point is, I've once again got the fever for a BBC. To satisfy that need, I think I'm going to buy (somewhere down the road) one of two different Factory Five Racing kits, either the
Mk3 roadster
or the
'33 Hot Rod
... I'm leaning towards the Hot Rod right now. Of course which ever direction I might go, it would have to have a BBC in it
And behind that, a new T-56 Magnum, which is supposed to be good up to 700ft lbs of torque. Anyway, here are a couple pics of a Hot Rod. It was great, their Mk3 Roadster was following us from South Bend up to Warren yesterday. That was very kewl, as it didn't have any problems keeping up with us, lol!
Here are some other pics from the day.
Here is totally chopped VW. There is a lot work done to this car. I don't see how the guy can even get into the car!
My favorite year of Corvette ... at least of the old school models.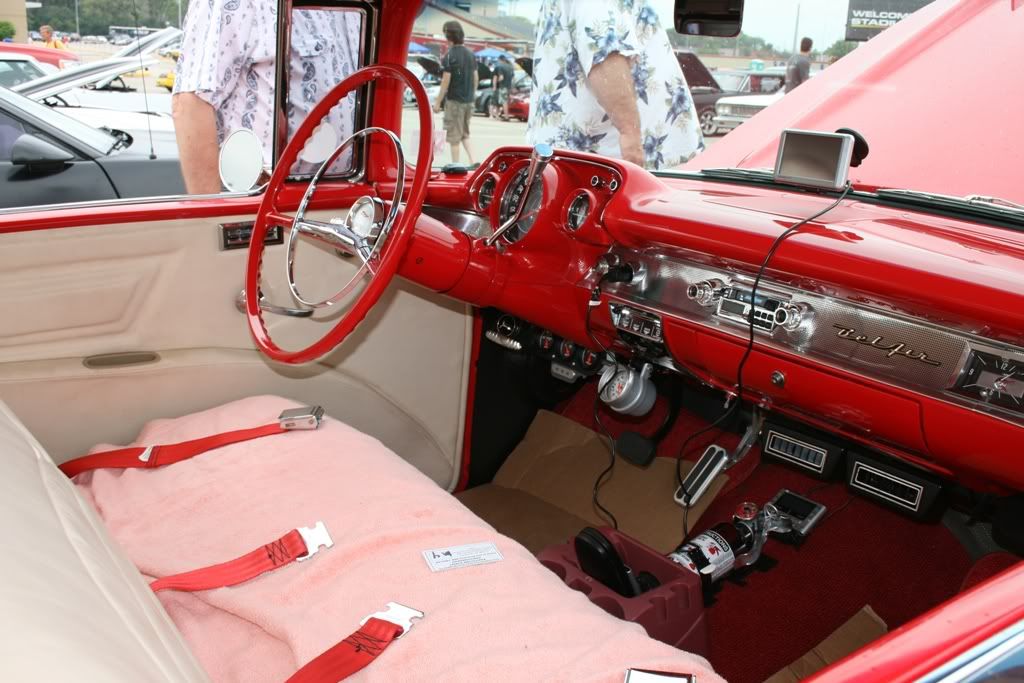 **********************************
June 11 - Dayton to Somerset, KY
Today was really wet. I wasn't able to get a lot of good pics, and to tell you the truth, I'm kinda running out of things
I
like and want to take pictures of. I've seen probably 80-90% of the cars on the tour. Most of them are great in their own right. The great thing about the tour is the traveling, as I've mentioned before. The new has kind of warn off of the vendors at the tour. Most of them have some great displays and some great products. They have a give away every afternoon starting at five. They call a bunch of people up to spin this wheel and get a prize. There has been some good prizes over the past few day, but to tell you the truth I haven't stayed for any but the first. I have been so tired and so beat up by the roads I've been on, I've haven't wanted to stick around for the give aways. That kind of sucks in a way, as I know I won't get anything, but oh well, life goes on. I'll be there for the driver's meeting on Saturday for those of us considered "Long Haulers". We'll get our picture taken and get a goodie bag and be on our way. Power Tour will be over and I'll have the memories and the pictures.
So, I did get some pics in today. I did get some more pics of this Lingenfelter Camaro I really like. As I was telling a buddy of mine, the paint on it looks like it's about three inches deep. This car is flawless. I think I went into all of that yesterday, so here are the pics.
Here are a couple of other random pics.
Here is a picture of this engine from an orange 57 (I think) Chevy. The valve covers and air cleaner cover are both powder coated clear orange. Underneath on the bare metal it has had a disk sander or something which made patterns in it, which shows through the clear powder coat. It looks great. The picture in no way does it justice.
Also, I just had to throw one more picture of this Factory Five '33 Hot Rod. I really love this car.
When I got to the hotel, there was already a few of the cars from the tour lined up outside. If you look there is a beige MGB. That little car has a Rover V8 in it, and a shortened Chevy rear. That thing is a total sleeper. REALLY kewl! He said MG built about 2500 MGBs like this sans the rear (his stock was a 4 cylinder). The engine is all aluminum. He said it weighs something like 40 lbs less than the stock cast iron 4 cylinder, lol! The engine looks as though it is meant to be there. The install is that clean. As of this post, almost the whole parking lot if full of Power Tour cars. I tried to take a pic, but it's too dark out.
I'll still try to take some more pics tomorrow. Hopefully the weather will cooperate a little more with us, as it was ugly today. Rained for more than half of the drive down here, sometimes hard enough I couldn't see. I really felt for some of the people out here who don't even have windshield wipers. I know it's their choice, but that has to suck. Well, till tomorrow, I'll leave it at that.
**********************************
June 12 - Somerset to Bristol, TN
Well, I finally downloaded all of the pics and got them converted to fit into photobucket. So, here's the rest of the story, lol!
The trip from Somerset to Bristol was a very nice change. The roads were almost flawless, and running through the tunnel we had to go through was a blast, especially with all of the rodders going through with us
That was a blast! We got to Bristol fairly early and got pretty good placement at the track. About dead center of where the vendors were located. I took some pictures of the area and then I panned them together. Here are the pics (hope they look good on here!).

Mind you this is just the upper portion of where the cars were. They were parking them down on the lower areas ... this is just back up by the dragstrip. Speaking of the dragstrip, here's one of the back end of the dragstrip.
And they don't call it "Thunder Valley" for nothing. It is literally in a small valley. All of the noise of the cars bounces off of the valley walls and reverberates ... stinkin' AWESOME! At about 1pm they opened up the dragstrip and allowed Tour to run as many runs as they wanted. It was all ours and a blast to watch. Then around 3pm they opened up the 1/2 mile oval and let people run their cars around there for a few laps. I didn't run the Camaro because I still needed to get home. Probably in hind site, I should have at least signed up to run it around the 1/2 mile oval. The car could have done that easily, but the drag racing I was afraid of the tranny so didn't even try it. Here are pics of the drags. I'll throw in some comments where needed! Hopefully the cars and time shots I took line up correctly. If they don't, please forgive me.
Here are some pics of Brent (LS1DER) from the forum. He showed up just outside of Somerset and joined us for the run through the tunnel and into Bristol. It was great meeting him and seeing his awesome car. It is in great shape. He ran some decent times, considering the car has 2.73 gears and sporting street tires. Here are a couple of runs and a rain delay where I took some pics.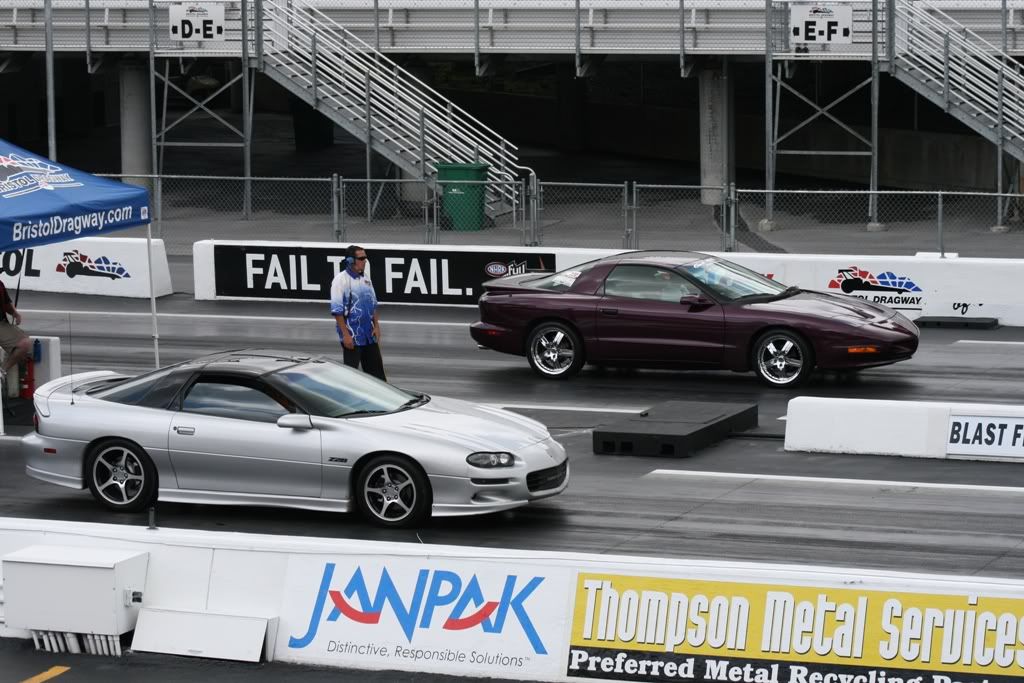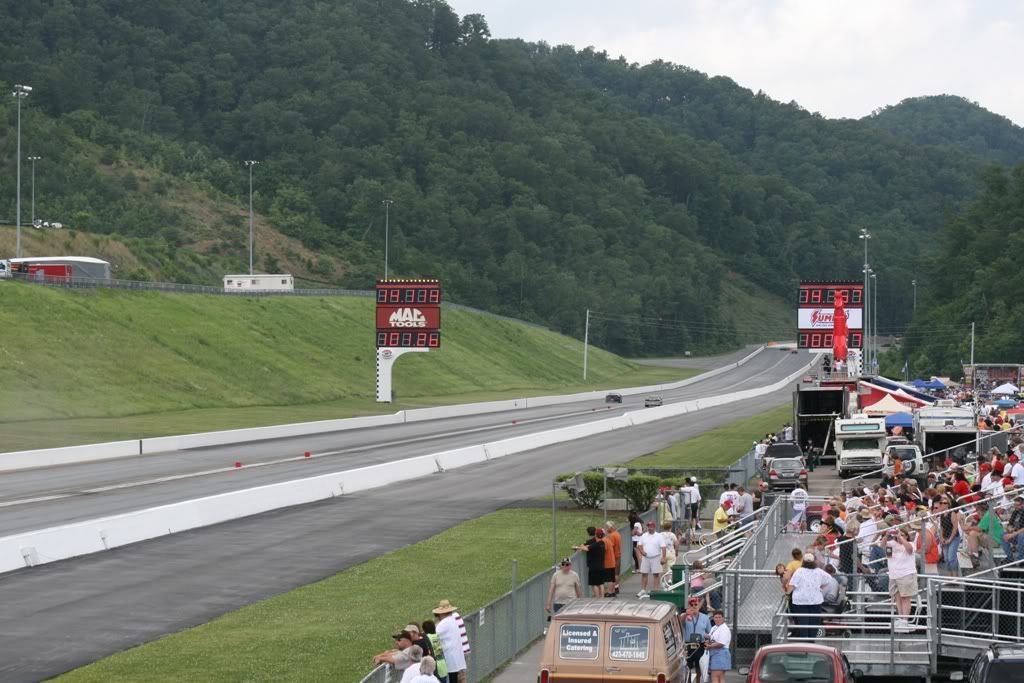 As you can tell, Brent didn't win in any of these, but his MPH when crossing the line was over 100 (106 in one instance), though his times were a little slow. That is why I said earlier with some better gears out back, he'd be knocking down some serious times ... I'm sure he'd be well down in the 13's if not busting into high 12's. Maybe I'm optimistic, but that car was rocking and rolling once it found it's powerband! All-in-all, great job Brent!
This run is Jeremy, the guy from Ohio whom we met before we even made it to Madison. We ended up saying hello to him every day except the last day. That kind of made me a little sad. It seemed we rolled with him daily just like he was one of us, then we didn't even get a chance to say adious.
This Chevelle was down right nasty. It was loud. I would have thought it was a BBC in it, but found out later it had a 400 SBC. I'll throw in this other pic of him doing a burnout ... hehe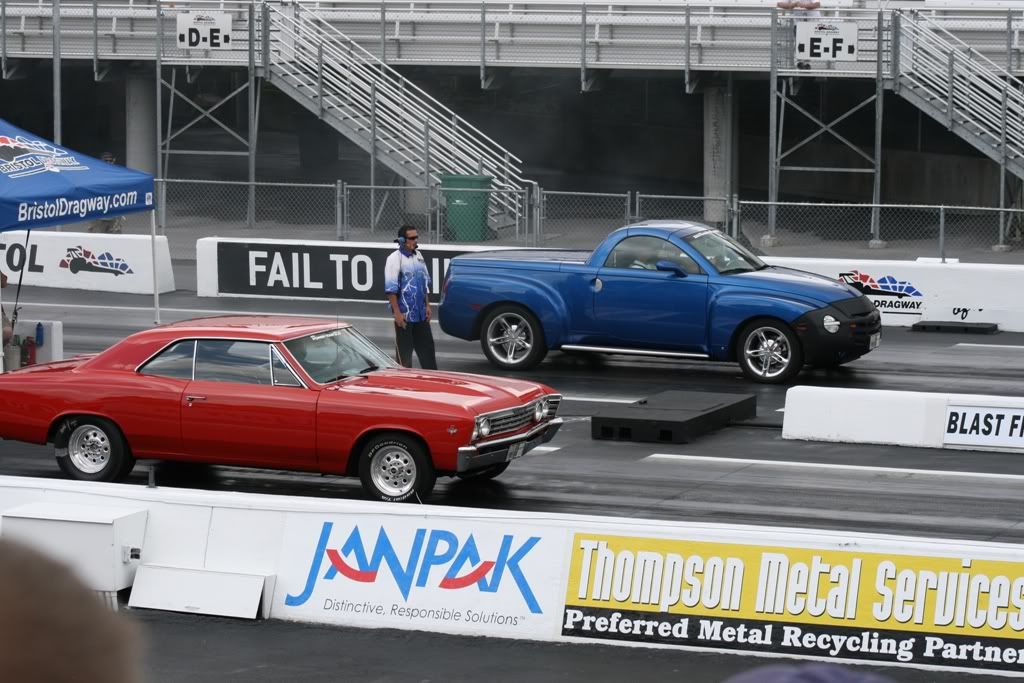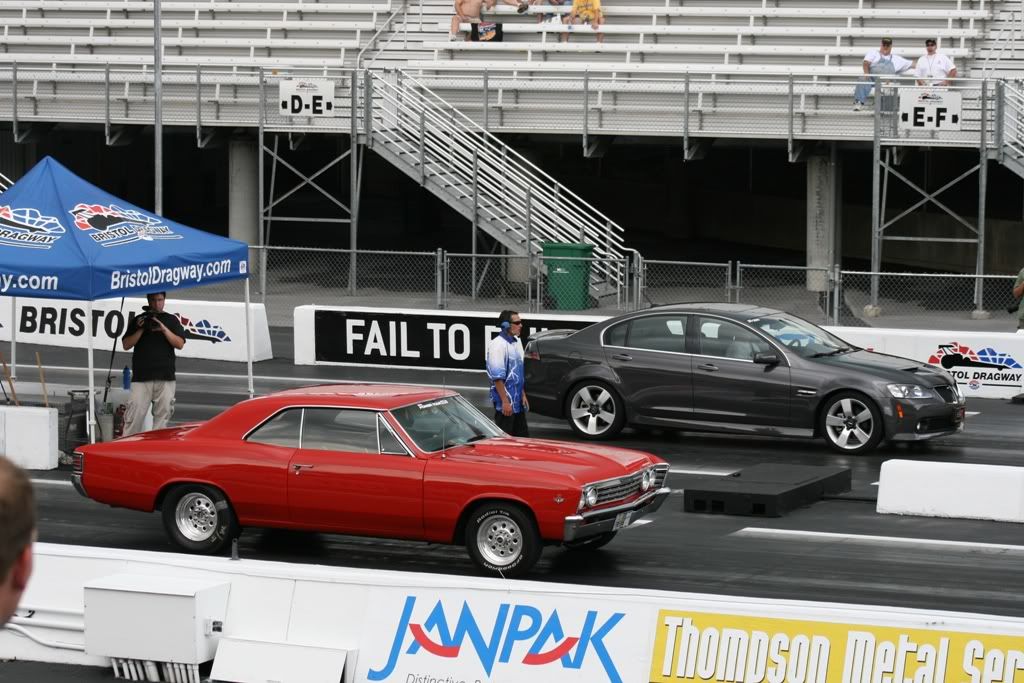 Here's the Chevelle again up against a true "Elenor". The Mustang was sweet, but since it was still wearing street shoes, didn't live up to it's potential. I overheard the guy say it would normally run 10.6 in the 1/4. It had a large Paxton type blower and sounded awesome!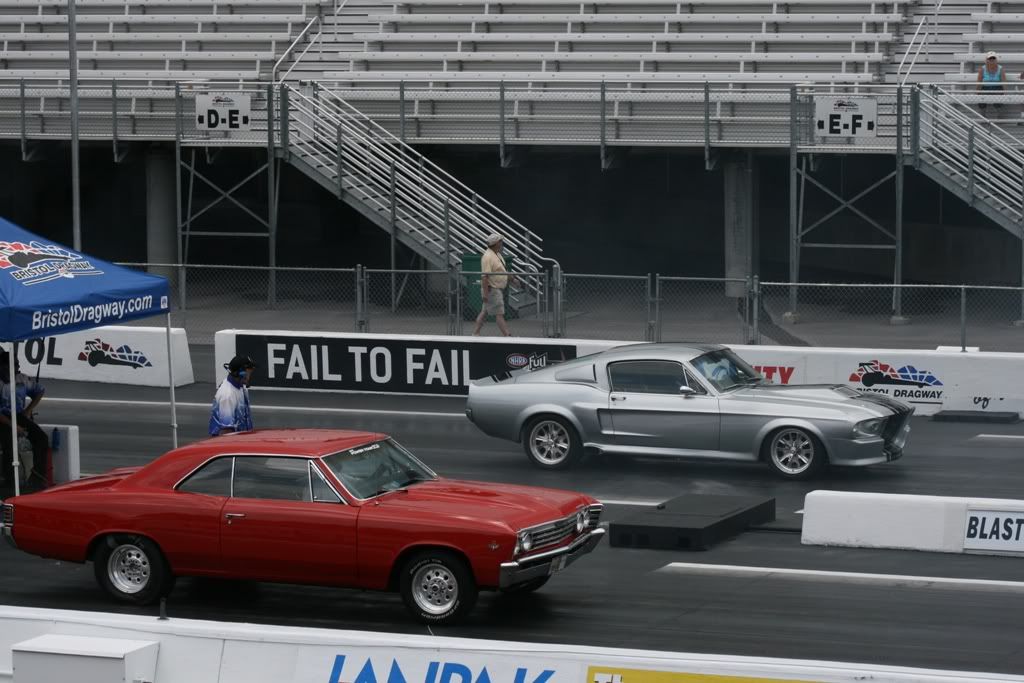 Here are some other fun lineups which occurred. Hope you enjoy!
Don't laugh, it was running a Hemi and could toast the rear tires!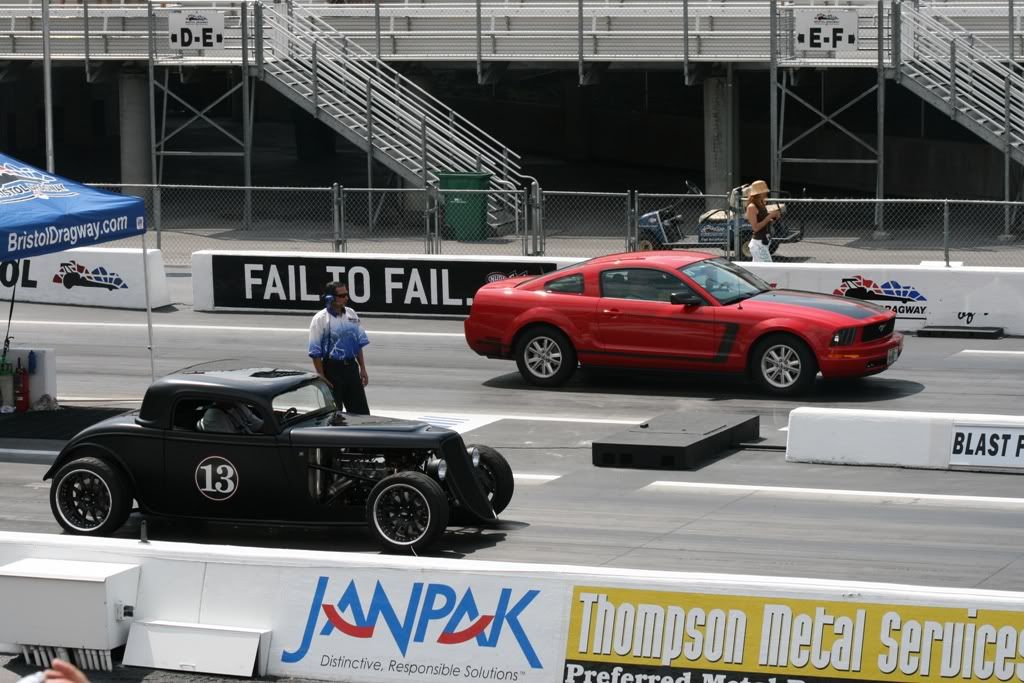 Here are a couple of pics at the 1/2 mile oval.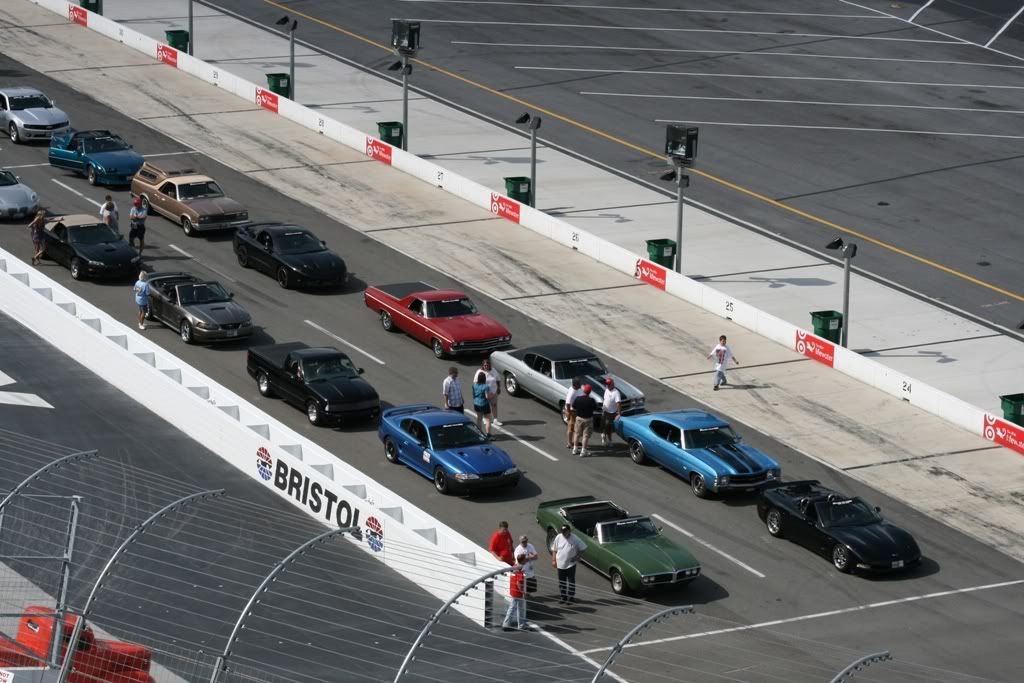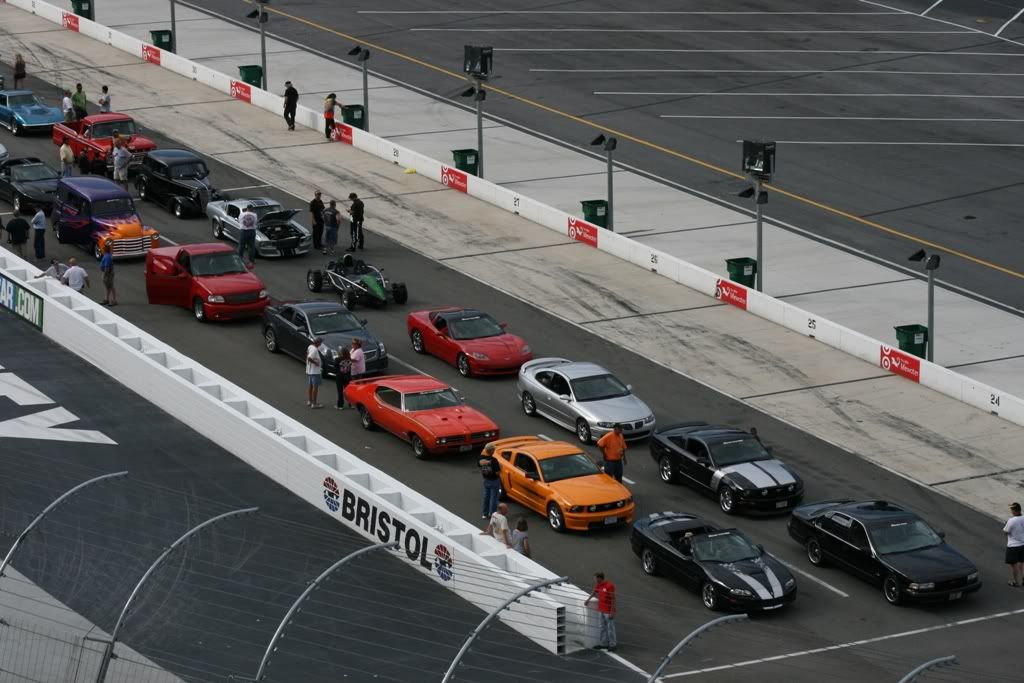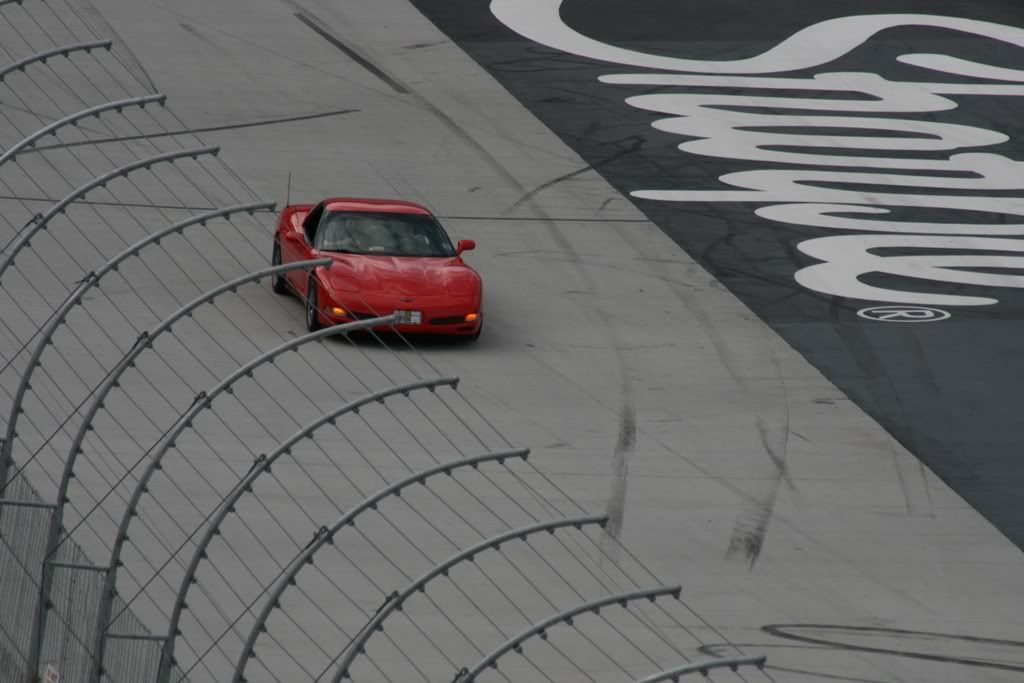 And at the end of the day, here we are at our cars just enjoying life! I still have some pics from the Long Haulers meeting. I'll post those pics up in another post.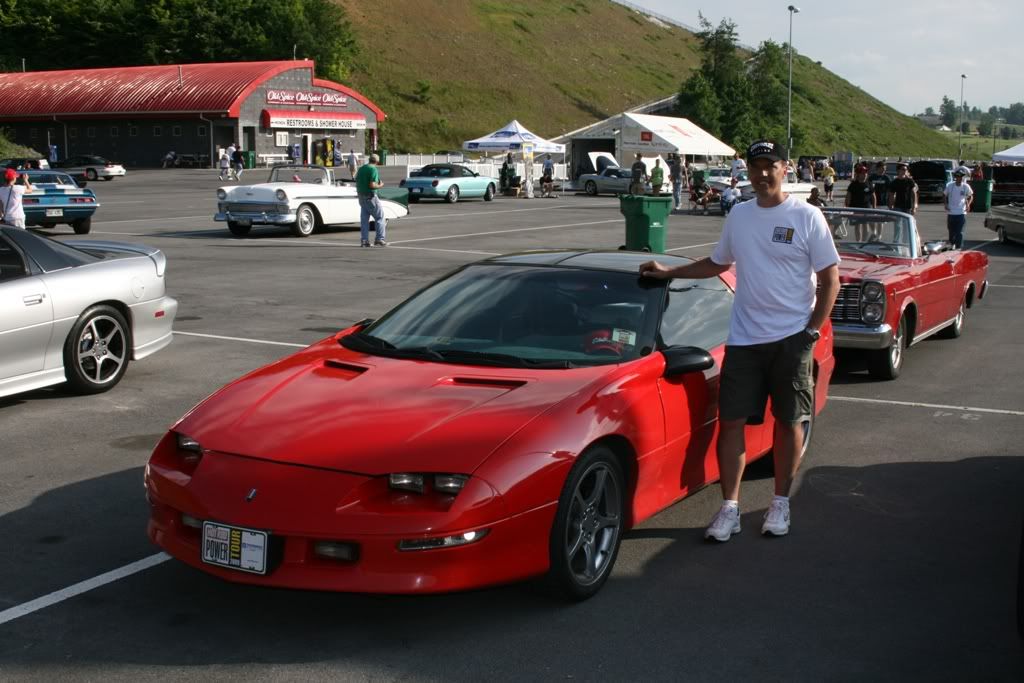 **********************************
June 13 - Bristol Long Hauler's G2G
We weren't able to stay in Bristol the last night, so we stayed in Johnson City, which is about 15 miles down the road. Little did I know when I made reservations there, they have a five star Hooters. Hehe ... it was really a great restaurant! Anyway, again, no photos ... wouldn't want to upset the wife
So, I have just a few pics from the final day.
Here is the HRPT bus provided to them by the SEMA Action Network (SAN).
Of the people standing by the wall, one of the (hard to describe which one) is David Freiburger, the Editor-in-Chief of Hot Rod Magazine. He seemed pretty kewl. You can also see the red Camaro they gave away. Out of all the online and other entries for the give away, one of the Long Haulers actually one the car. It was awesome!
Here are the cars right after leaving the stands. I took the other pics of us just goofing around.
All-in-all, it was a great trip. I'm hoping I can make it next year, but no telling at this point. Hotel rooms ran about $800. Tolls, food, and extraneous costs ran about $500. Gas was another $300-350 (I was afraid to add it all up
). And that doesn't even count the amount of damage I haven't figured out yet on the car. Still, the experience is well worth it. If any of you even get the chance to make it to one stop along the way, or travel at least on one leg of the journey, it's well worth it. Long Haulin' takes a lot out of you, but it is the "coup de grāce" of the Tour. I would highly recommend it to anyone!
I hope you have enjoyed my trip as much as I did. I know I've taken a lot of pics. Some are alright, but I could never have caught everything I've seen, nor do those things justice. Maybe next time I'll have a few more pics and share a few more memories.